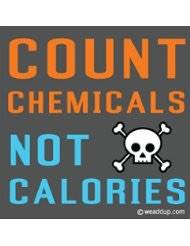 Marilyn from Urban Homemaker has a list at her site of the Top 10 Troublesome Ingredients we need to look out for in our food. She has asked me for a few suggestions in how to avoid these and here is what I came up with.
WHY BUY ORGANIC?
To avoid most of these troublesome ingredients you can buy organic foods. In doing so, you would avoid MSG, high fructose corn syrup, GMO's, artificial colorings, chemicals & trans fats. However, remember, there is a difference in the quality of various organic foods. It has become big business and some companies are doing as little as they have to in order to get the "organic" label. The very best options are to buy local organic whole foods and avoid packaging as much as possible. However, Marilyn asked if I had an idea for a healthy alternative to RANCH dressing, and I have to admit that for this I do use a packet of Simply Organic Ranch Dressing mix! (You can get it at a health food store or some grocery stores carry it now along with other Simply Organic packets like Bean Dip mix, Taco Seasoning mix, etc.) Mix it with organic sour cream for a yummy veggie dip, and for salad dressing just add a little milk to get the right consistency. For more flavor you could add garlic and/or some sea salt & pepper. My kids love it too and eat more veggies this way.  UPDATE: Now I make my own ranch salad dressing or my own ranch veggie dip and it's much better tasting than the above suggestion (very easy, too)!

HEALTHY MILK
To avoid rBGH you could really go healthy and drink raw milk, but if you don't think you'll make that move yet, at least choose the next-best healthy milk options.
WHY TAKE COD LIVER OIL?
To balance out the Omega-6's prevalent in our bodies from the typical American diet, be sure to take cod liver oil for omega-3's (and also for the vitamin A & D) to prevent many diseases. (Don't worry; you can take the capsules if the thought of taking the oil puts you over the top!) At the link above you can read about the MANY health benefits in doing so, along with info on where to get the best price.
HEALTHY MEATS
To avoid sodium nitrite, find natural meats online, or at a farm near you: www.localharvest.org or www.eatwellguide.org.
BECOME A LABEL READER!
Once you get into the habit of reading labels (or better yet, eating more foods without labels), it gets easier over time and really isn't that difficult (see links below for more on that). If all this still overwhelms you, though, be sure to check out my new post, Health & Nutrition Rookie Tip of the Week!