Hello readers!  As we wrap up 2013, I'm wondering if any of you would share what was your favorite post that you read here in the past year?  I'm curious and would love to hear what you say.  🙂
With Christmas and New Year's Day being on Wednesdays this year, it's sort of screwy, don't you think?  It's also messing up things around here a little as you would guess, and I wonder how many of you even caught my posts last week?  Just in case you missed them, here's a little recap:
Before I get to this week's links, I have to tell you what my FAVORITE Christmas gift was!!  I'm so excited I can hardly stand it.  Remember I told you that I wanted one of these treadmill desks, but couldn't afford it?  Well I had the idea to ask my brother, who can make anything, if he could build me something that goes on the treadmill I already have, and HE DID IT!  He gave it to me on Christmas and didn't even have my name!  It works SO good, I'm using it right now actually.  I've been on here about 45 minutes so far and as usual when I'm working on my computer, it feels like about 2 minutes, you know how that is.  It is taking a little getting used to — things like highlighting text or other things like that may take a little time, but it's not bad at all.  I'm not able to walk very fast, but it's WAY better than sitting on my butt so much, especially if I'm on here 2-3 hours a day or more!  It's getting warm, but I'm just going to turn my fan up, and I guess that means it's doing something!  I'll get a picture and post it one of these days.  OK, I'm at almost 2 hours now and turned it up a little faster a while ago, I'm starting to really feel it in my legs, maybe I'd better start off slow…
On that happy little note, let's move on to this week's links…
Did you hear about this one?!  A pregnant nurse in PA who refused a flu shot–after reading the fine print on the vaccine–was fired, with no flu mask option.  Did you know that flu vaccines are Category C drugs?   Here is the FDA's definition: "Either studies in animals have revealed adverse effects on the fetus (teratogenic or embryocidal or other) and there are no controlled studies in women, or studies in women and animals are not available. Drugs should be given only if the potential benefit justifies the potential risk to the fetus."  (Source.)  Read about this brave, wise mama who lost her job.  Read the excellent post by Kelly Brogan MD – Holistic Psychiatrist on flu vaccines during pregnancy (a MUST read if you are pregnant and being pressured into the vaccine).
Remember the official policy of the American Academy of Pediatrics against all raw milk and dairy products sales?  The Raw Milk Institute has responded with a very informative, myth-busting letter to the AAP on the safety record and nutritional value of clean, raw milk from healthy cows. Here's hoping the AAP has the integrity to publish it, to give pediatricians more detailed and accurate information with which to counsel their patients.  Read the letter here:  Not all raw milk is produced equally.  Click here to pin it and spread the word!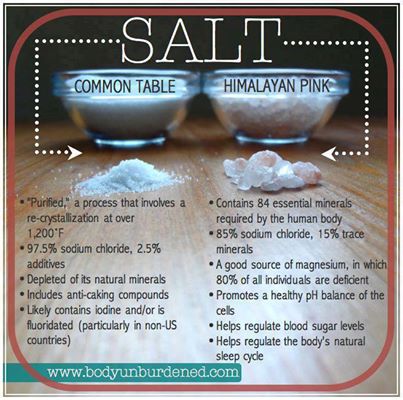 There was an interesting post on my Facebook page last week about which is your favorite raw, unprocessed salt?
(Click the links above to read more about them.)  Check out the conversation here and add your opinion
If you're getting together with friends or family on New Year's Eve, what are you making?  The only thing I know so far is that I'm whipping up these easy flourless blonde brownies.  I'll look through my appetizers list for more ideas.
These are my favorite videos of the year – I've shared them before, but wanted to post them again as we head into 2014.  Let's all spread LOVE this year – help someone every chance you get.  Make sure your kids see you so they learn to infect the world with kindness, too.  God bless you all!
Have a great week!