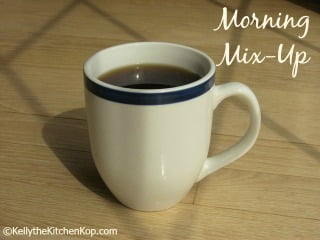 A while back I told you about how I was recommitting to REAL FOOD around here — read about what actually got me back on track and how transparency is so important:  How I Got Lazy and the 5 Ways I Have Recommitted to Real Food and Healthy Eating.  One of the things I mentioned recommitting to is the issue of healthy meat:  Only buy meat from farms I have personally visited where I can see the animals and talk to the farmer face-to-face.  I had a lot of meat to use up in our freezer, but now that we're getting low, it was time to start researching and visiting farms.  (If you are too busy to go search out farms or can't find good sources for pastured meats near you, here's where I recommend for ordering safe, healthy meat online. I do know and trust the owner there, so if you can't go visit the farms, this is second best.)
One of our favorites will always be Lubbers Family Farm.  They are nearby, I love the owner, Karen, who along with her husband Jeff, are doing everything right!  (Their son also has a bakery on the farm where we buy our local fermented breads for those times that I'm not in the habit of making our own.  However, I made some yesterday with Einkorn flour and it was really good –>  Get Einkorn flour here and the Einkorn cookbook here, which is one of my all-time favorite cookbooks!)  Read more here about Karen:  Milk Comes from Cows Not Beans.
The other day I took the kids and went with a bunch of friends for a farm visit to a new place I'd heard good things about (thanks Sarah!).  The family is pictured above from Provision Family Farms.  Luke and Caitlin, along with Luke's parents, run the farm, and like the Lubbers, they're doing everything right — Luke has learned a ton from the same source where he got his initial inspiration to start farming:  yep, Joel Salatin.  I wonder how many of us have him to thank for having local REAL food sources?!  I love what he says here about how things are changing:  "It's really weird to be the ugly step-child for all those early years and then you wake up one day and you're Cinderella. To be sure, we haven't won this by any means, but it's really amazing to see this."  Read more here about Joel Salatin and find more links about him there, too.  Here are a few of my favorite pictures from our farm visit the other day:
What I love about both of these farms (and others like them) is their transparency.  The same is true of Montello Meat Market in downtown Grand Rapids.  The owner, Tony, admits that it's not easy finding all pastured meats or corn/grain-free beef, and they don't have it all down perfectly yet, but he and his staff know the lingo, they can talk intelligently with me about these issues, and they're honest.  That's what we as consumers need and deserve, we just want communication and the truth.
Here's what else I've found for you this week…
Apparently there were some server glitches yesterday, and many who wanted to order the big book/classes/freebie bundle ("Ultimate Healthy Living Bundle") were not able to, so they've extended the buying deadline to today until 2:59 PM Eastern Time only.  Click here to see what is included and all the FREE stuff you get, too.  (Which basically makes the whole thing free!)  Whether you want to learn more about essential oils — and get free oils to start you off — or about eating grain-free, or how to actually make exercise happen, or basically ANY health issue you'd like to learn more about, it's all here.  🙂
FYI:  I've still been updating my original post about the whole Fermented Cod Liver Oil mess with new links as more information comes out, and now it includes my own personal conclusions as well, but PLEASE read this information thoroughly yourself so you can make your OWN decisions. I say it all the time: don't blindly follow me or anyone!  One more thing I'll share: I have appreciated the professional tone of the responses from Green Pasture and the WAPF (and board members) compared to the inflammatory tone of the original report. Do you agree?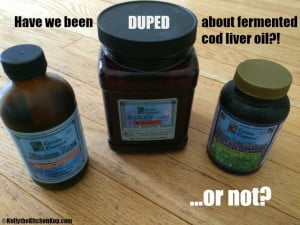 Local readers: Book signing 

this Saturday

!  

This 

Saturday, 9/19

, I'll be at Nourish Organic Market for a book signing, I hope you can come say hello and get a Real Food for Rookies book if you don't have one yet.  🙂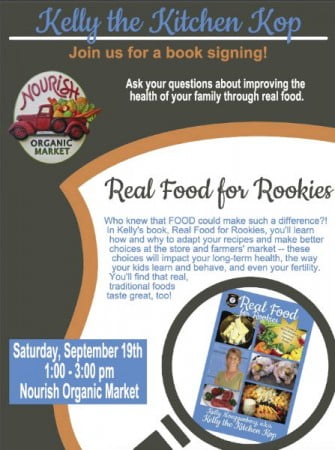 Our 10 year old son is very different from our other 3 kids, he is much less shy, and has no problem putting himself out there, lol.  Like our daughter, he's also quite interested in cooking.  He's been helping me in the kitchen for years and slowly do a few things himself when I'm nearby.  The other day he made some scrambled eggs and took a picture, which he asked me to share with everyone on my blog — he even plated it just so.  Here's what he used:  organic spelt tortilla, scrambled egg, sauce (dijon, ketchup, our favorite bbq), fresh basil, parsley, farm sausage.  He'd probably love it if you commented below and let him know what you think.  🙂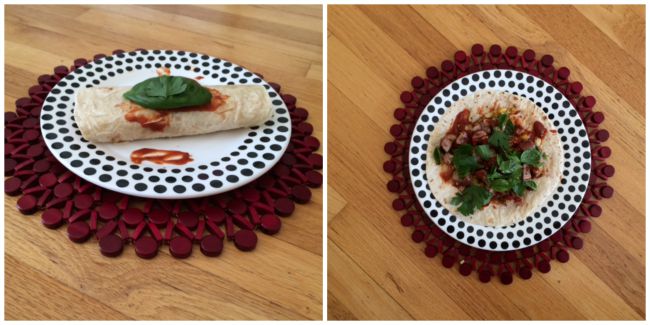 You guys know that I LOVE a good movie, and there are a few out right now that look really good!  I think I already told you about this one:
And this one looks so good too:
If you've seen any of these, let us know how they were?!  Here's more about the last story:  How being held hostage saved my life.
That's all I've got time for today, I have to go light a fire under the kids and get them moving better on school stuff!
Have a good rest of your week everyone!
(Affiliate links are often included in Morning Mix-up posts.  Check out my affiliate disclaimer here.)