Monday Mix-Up Continued… (Click here to go back to page 1.)
Here's what I've found for you this week…
You know those nifty red button turkey timers that tell exactly when commercial factory farmed turkeys like Butterball are done cooking?

Turns out you can buy a reusable stainless steel turkey timer that works the same way in your happy, healthy, pastured Thanksgiving turkey — now you have no reason to buy commercial turkeys anymore!  Order it now and with Prime free shipping, you'll have it by Wednesday.
Just say "no" to (turkeys on) drugs!  If antibiotics, GMOs, and unhealthy crowded living conditions weren't enough reason to avoid factory farmed turkeys for Thanksgiving, this should do it.  Find locally-raised pastured turkeys here.
This was an interesting article on how stress changes the brain.  What do YOU do to avoid stress in your life?  For me, I've recently been much better at making "No" my default word.  I remind myself often, "You can't try to do it all, Kel!"
Wow guys, it really IS catching on! If you live in New York, stop by Brodo and get yourself a cup of bone broth!  Read more here.  Find "The Broth Bible", Nourishing Broth here.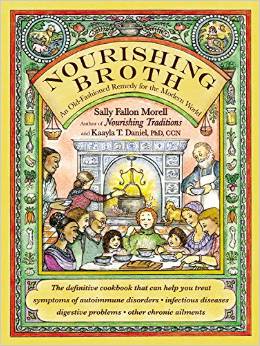 Did you catch all of last week's posts? Here they are in case you missed them:
Have you seen this one from the archives?  The Ignorance of Dr. Oz.  Find out how he got me all riled up…  (Please share it with the buttons below the post if you're riled up, too!)
How is Essure still on the market?  Pass this info on to any women you know who may be considering this barbaric and dangerous form of birth control!  The video at that link with a statement from Bayer is such crap.  "Our product has been approved by the FDA (because that makes us sooo comfortable, right?)…  The problems that have been reported from Essure are known and on the product insert."  So because they knew about these problems, then it's all okay?!  Be sure and read the comments over on Facebook.  I'm not a fan of birth control anyway, except for the all-natural kind, but you probably could've guessed that.  See my previous posts on reproductive health here.  ***Please will you share this post with the buttons below to warn others?  One woman on Facebook said she had planned to have this done in January!

Have a great week!