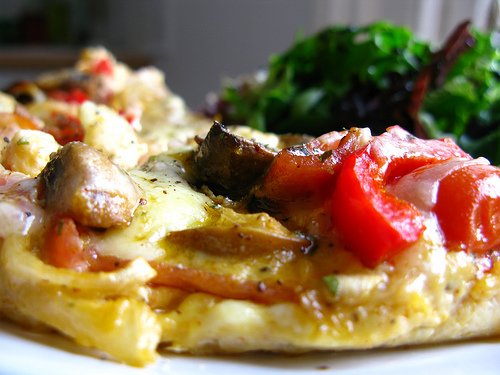 Oh yeah, I can nail these, and are they ever gooooood…
By the way, I wrote this in October and forgot to post it, so I'm digging it up now since omelets are the perfect satisfying, nutrient-dense, low-carb meal, whether you're trying to eat low-carb or not.
This was my last "real" omelet of the season.  I used the last of our peppers and the last of our cherry tomatoes from the garden (what few we got last summer) and threw them in with pastured cream cheese, sea salt & pepper, caramelized onions, and then melted cheddar on top. oh. my. gosh.  Add a hot cup of coffee and some crispy bacon on the side and you're LIVIN'.  If you're not low-carbing it, then in-season berries, crispy potatoes, or some sourdough toast with lots of butter will really hit the spot, but honestly, I'm just as happy without those.
Omelet's aren't that tricky.
Start with a small cast iron pan, and coat it with a LOT of bacon grease.  (It's free and it tastes great with eggs.)
Crack 3 pastured eggs into the pan (low-medium heat) and stir it with a fork. Add an extra yolk or two for extra nutrition if you feel like it.
Sprinkle with sea salt & pepper.  (I like a lot to give it good flavor, and the minerals in the sea salt are always good to have, especially if you have the kind of water we do.)
Add the rest of the ingredients you like in yours, just throw them on top, and cover for about 4 minutes or so. (Dollops of cream cheese, different colored peppers, caramelized onions-just fry them in another pan first with lots of bacon grease or ghee, cherry tomatoes, ham, sausage, what else do you like in yours?)
Check the bottom to see if it's getting golden brown, if not, wait until it is and until the center of the eggs are starting to set up.
Flip up just one side over the top onto the other side, and then sprinkle shredded cheddar on top.
Continue cooking until the cheese melts.
Enjoy!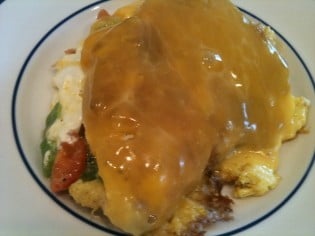 By the way, at right is my original picture, which I was just told looks disgusting!  So I had to find another one to use above that is a much prettier shot of an omelet!  (It sure tasted great, though!)