A friend and reader recently asked this (and I've been asked this many times before, too):
I have a butter question… now that we are buying real butter, it is really hard to spread on toast. Is there a trick?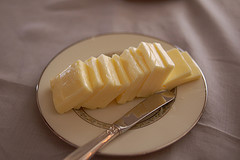 My reply…
I've got the PERFECT answer for you, just leave it on the counter! I bought a covered tupperware looking butter dish thing at the store and when it's getting low (daily) we just put more out. Before you get to store next, just leave it on a plate with wax paper loosely over the top. It won't go bad, especially if you go through it as quickly as we do.
This way you always have some soft and ready-to-spread butter. (Well, as long as your family remembers to put more out when it's getting low that is…something that doesn't often happen here.)