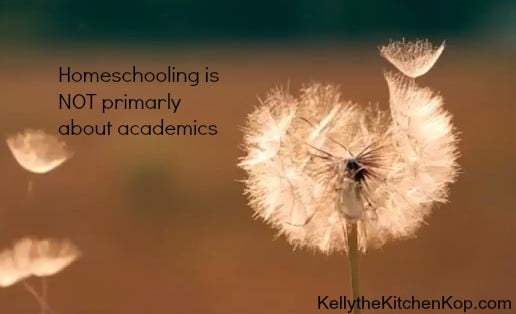 Today I called my friend, Julie, with tears in my eyes, because the kids had me so frustrated again with how little they buckle down and get their work done, and how much they complain about it.  (Some days it's just one, some days all three…)  This leads to all of us snapping at each other, me grounding them from something again and a big cycle of negativity.  As usual in these times, the doubts crept back in, and I was wondering if I'm really cut out to pull this off, even if I love the idea of homeschooling.  I know that our family was called to do this, though, so we're committed for the long haul, but wow, it's really tough some days.
Julie was the perfect encouragement that I needed.  First she made sure I knew that everyone has those days, she reminded me that the first year is always difficult, and that coming off Christmas break is really tricky, and she also suggested I spend some extra time praying about it.  She even gave me some really good practical advice and ideas of what to try to change things up a bit.  Then when I lamented that I just don't know if I'm teaching them enough, she reminded me that I probably was, but if not, our biggest goal is leading our kids closer to God anyway, that is the main reason we homeschool.
Then I found these HSLDF videos in my email box.  
The more I watch, the more tears of thankfulness come, because they are speaking just what my heart needed to hear tonight.  I've copied my favorite two in their series below, but especially the first one was perfect confirmation to what Julie said:
Homeschooling is not primarily about academics – I need a big neon sign flashing in our home to remind me of this moment by moment!
A few of my favorite quotes from the video:
"Before long, we didn't treat it like a choice, we treated it like a commitment."
"Education is not about filling a bucket, but it's about lighting a fire.  As long as homeschooling parents and students remember that it's about creating a passion for learning and finding out more about the world God has given us, then homeschooling will always succeed."
"It's going to be hard work, and you gotta work on it.  But the flip side of that is the encouragement and that it's worth every ounce of effort that you put into it."
I loved this next video, too – "Our Best Advocate":
More favorite quotes and encouragement I needed to hear from the other videos (find them all here):
"Recognize that it's going to be hard, too many people start out with good intentions, they do well for a while and then they get discouraged and they quit.  The key is really to go all the way through and graduate our kids.  And then not to be discouraged if it appears that they haven't bought into homeschooling or our faith as we wanted them to, because that's not the issue for success.  The issue for success in God's eyes is if we've been faithful to the calling."
"Homeschooling is more about discipleship and about family than it is about academics."
My plan:
So tomorrow I'm going to let the kids sleep in as long as they want.  And then we'll talk about their list for the day (which is always made out a week ahead), but I'm going to let them decide, for tomorrow anyway, what they'll get done.  Later we'll take a walk together in the woods on what's supposed to be a spring-like winter afternoon.  I'm just going to counter all the negativity with our day tomorrow and have fun.
Over the weekend I'll pray about which of Julie's suggestions to put into play for next week.  One suggestion I'd like your advice on…  She suggested possibly giving them a small incentive bonus ($0.50-1.00?) for the days they get their schoolwork done by a certain time.  Kent didn't like the idea of paying the kids to do what they were supposed to do, but I reminded him that he gets a paycheck for his work, and this could be just the nudge they need to then go spend it at the dollar store on Friday if they made good choices.  If not, they can watch their sibling do so.  (This plan probably won't fly for our 13 year old, but he can save up for the next 'thing' he wants…)
I just want to be 'on them' less, and help them become self-motivated to get through their work so we can do more fun things together.
Any other suggestions?  Thanks for always being there to help me, reader friends!  🙂