I've been hinting at doing this homeopathy study class for a while now and it's finally time to announce the details on our upcoming Gateway to Homeopathy study class!
First, what is homeopathy and other Q and A's:
Is Homeopathy "New Age"? 10 Homeopathy Q and A's and the FASTEST Homeopathy Success Story!
Your hosts for the class:
Join Paola from HomegrownHomeopathyNetwork.com and Kelly from KellytheKitchenKop.com as we guide you through the Gateway to Homeopathy study class developed by famous homeopath, Mom, and rockstar (in my world!), Joette Calabrese.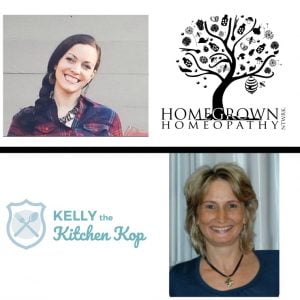 Why take this homeopathy study class?!
You'll learn from Joette's materials, including specific protocols for dozens of ailments.
You also hear success stories, tips, and remedy recommendations from Paola and Kelly, and find out what has worked best in their families.
Class members can join Paola's homeopathy Facebook page where you can interact with other members, ask questions, etc. (This is invaluable for when your child suddenly comes down with something and you're not sure which remedy to try first and you need help fast!)
Get loads of free health resources from Kelly including a grocery store cheat sheet (see more on this below).
Have the opportunity to ask Joette your questions in a live Q&A.
Once completing the class (you must attend at least 7 of the 8 classes), you'll get a 15% discount from Joette on all remedies from one of her trusted homeopathic pharmacies.  (Note:  I apologize!  This is a correction from what I wrote earlier.  Apparently it's 30% off for past clients of Joette's or students in one of her courses, but for her Gateway study class participants it's a 15% discount.)
Alumni can take Paola's future classes again for free.
Paola is especially qualified to help you learn because not only was she on Joette's staff, she actually worked with Joette to develop the curriculum and write the book used in this class!
Details:
Please read carefully before you email me with questions, thanks!
Classes begin Tuesday, October 2nd, 2018, and then on every Tuesday and Thursday for 4 weeks, from 12:00 pm/noon Eastern – 2:00 pm, with Q&A time afterward.  *EXCEPT FOR THE JOETTE DATES NOTED BELOW*.  Note that Paola's family recently moved to Budapest, Hungary for her husband's job, so they're 6 hours ahead of EST, which is why we can't offer an evening class right now but we may do another class again later (no promises!), so if you're interested, don't pay but still enter your email in the first step below so we can let you know. (So skip steps 2 & 3.)
Cost:  Fee is $47 for the Gateway class materials, and study group participant fee is $70.  (Part of this will be donated to HomeopathyChoice.org — they are working to keep homeopathy legal and available to all!)  IMPORTANT NOTE:  I know this may be a financial sacrifice for some, but remember that working with Joette costs around $600/hour (as it should since she's a brilliant homeopath with years of education and experience), and there are times you may need her specific expert help with tough chronic cases.  However, this class is an affordable way to learn how to help your family yourself with the many everyday acute ailments that we all deal with from time to time, AND you'll actually learn many protocols for chronic issues as well.
***If you have a financial hardship, we are waiving the $70 fee for up to 3 participants if you email me with "scholarship" in the subject line:  Kelly@KellytheKitchenKop.com, but note that you'd still need to sign up and get the $47 book.  (So skip step 2 below, but do steps 1 & 3.)
Slots are limited (they really are, I'm not just saying that!), so signing up soon is recommended.  See deadline info below.
*Joette dates will change our T/Th schedule by one day:

Our 4th class on Thursday at noon on October 11th will move to Friday the 12th at 11:00 am EST when Joette will join us for a live Q&A.
Our 8th/last class on Thursday at noon on October 25th will move to Friday the 26th at 11:00 am EST when she will join us for our final class and another live Q&A.
(Joette charges an extra $20 fee per person if joining live, or you are welcome to watch the recorded session later for free and we will provide a link for those sessions.)
Note that due to Joette's copyright rules and privacy guidelines, the regular sessions cannot be recorded and watched later.  Sorry!  We really wish we could offer this as an option for those who are unable to make the time or dates work, but we need to follow Joette's rules since it's her curriculum.  But again, we may do another class later (no promises), so if you're interested, don't pay but still enter your email in the first step below so we can let you know. (So skip steps 2 & 3.)
Meetings will be held online using Zoom.  (Prior to starting you'll be emailed a link, just click to join and it's that easy!)
There will be a small amount of homework for you to go through before each class, and this also will be emailed to you ahead of time of course.
Note that Joette has just come out with Gateway II and we also may offer that class later, so if you're interested don't pay but still enter your email in the first step below so we can notify you.  (So skip steps 2 & 3.)
DEADLINE and free alumni info:
You must sign up by Monday, October 1st and after that we open up any remaining available slots to Paola's past class participants who may take it again at no charge, and this will fill up the rest of our open spaces.  (Must be one of HER past students, not part of someone else's study class.) Alumni participants must still sign up below in step one so you're on the same contact list for class information, zoom links, etc., and you will be notified if you get in.  (So skip steps 2 & 3.)
Ready to sign up for this homeopathy study class?  Carefully read the below instructions and follow THREE steps…
1.  Sign up here:
Note: By signing up below you're also subscribing to the Kelly the Kitchen Kop blog where you'll get FREE access to the following:
Personal one-on-one email support/consults for help with your health or real food questions
A grocery store real food cheat sheet (the whole first chapter of my book, Real Food for Rookies.)
Real Food for Rookies online class
Free printables:

Real Food Time Savers — a whole list of tips so real food doesn't take over your life and your changes will stick.
How to Afford Real Food — tips on how to save money on healthy food so you can make this happen.
Homemade FAST Meal Ideas — for busy nights or those times when everyone is hungry and you forgot to start supper.  (That never happens here…!!!)
Real Food Snack Ideas — a huge list of easy-to-grab real foods.
And more…
By signing up you're also agreeing to join Paola's newsletter where she'll keep you up to date on what's being done to keep homeopathy available to all! ***You can unsubscribe to either at anytime, but this is how we'll update you on class happenings, homework, and zoom links for joining the class, and you would also lose access to the Kitchen Kop Krew member freebies mentioned above. (Note, if you're seeing this post after the start date, you can still sign up here so you'll get notifications on future class options, just skip steps 2 & 3 for now.)
Enter your info here:

2.  Pay study group participant fee here:
Go to PayPal.com and send $70 to:  Kelly@KellytheKitchenKop.com –> please use the "friends and family" option.
3.  Buy the Gateway to Homeopathy study class materials/book here:
Scroll down at this link and click the green button:  "click here to get started" to buy your book ($47) and enter in my name as your leader (Kelly Moeggenborg) and my email: Kelly@KellytheKitchenKop.com.
*You'll want to order this soon because I'm not sure how long it takes to get the book in the mail.
Questions?   Please read everything over well first, but if you still have questions contact me here:  Kelly@KellytheKitchenKop.com.
We can't wait to have you join us!
More you might like: