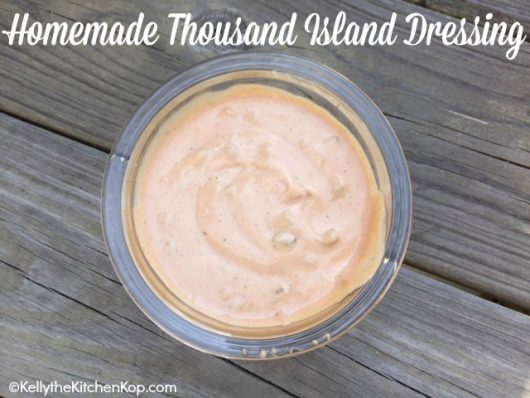 Homemade Thousand Island Dressing
This recipe makes almost 1 pint/2 cups.  Double it if you're serving a lot of people.
Note: These are all approximate amounts, use less or more as you taste-test and see what you like, and I use as many organic ingredients as possible.
Instructions
Mix all ingredients well, you can put it in a blender to get it extra smooth, but don't overdo it.  If it seems too thick, just add about 1 Tablespoon of water.  It keeps very well in the refrigerator.  (Note that the length of time it will last in the fridge will be shorter if you add bacon, or if you make the homemade mayo, due to the eggs, so you may want to make a smaller batch.)
More tips from Cathryn:
Other tips you and others may already know and use, but just in case, for ingredients I use ongoing, but only use part of each in a recipe:
For organic tomato paste and sauce, organic unsweetened coconut milk, lemon and lime juice, creamed soups, etc., I have ice cube trays just for these, and freeze them over night — I slide trays into zip lock bags or any plastic bags that fit tray size, and then when frozen solid, empty trays and bag the various cubes and keep in freezer to pull out as needed.  I use my Food Saver to vacuum seal mine, but not necessary.
Recipe by Kelly the Kitchen Kop at https://kellythekitchenkop.com/homemade-thousand-island-dressing/