Homemade Fluffy Biscuits — you can do it!
Today I have an example of what I pulled off last week with some leftovers, along with these homemade fluffy biscuits recipe — they were so delicious!
It started with a big pork loin in the crock pot.  We had that for dinner one night.  A couple days later I saw the leftover pork in the fridge, and since we spend so much on healthy meat, I surely never let it go to waste.  So I threw that into a pot full of chicken and beef stock that I'd had in the freezer (yep, I mixed them), seasoned it up with sea salt, pepper, garlic powder, onion powder, added veggies, and we had soup that night.
I made too much, as usual, so I decided to make "Pork Ala King" for dinner.  This can be "Chicken Ala King", "Beef Ala King", or "Ala-whatever you want" if you have leftover soup.  I thickened my soup, and served it over these homemade fluffy biscuits.
How to thicken soup:  mix equal parts flour and cold water with a whisk.  About 1/3 cup of each.  Slowly stir in some of the hot soup into this mixture until your bowl is almost full then stir that mixture slowly into the soup as you keep whisking.  (This is also how you make gravy!)
Serve over the biscuits below and there you have it, Ala King, and we got three meals from one night's meat – not bad!
Print
Homemade Fluffy Biscuits Recipe
Yield About 20-24 biscuits
Instructions
Preheat oven to 450*.
Stir together the first 5 ingredients, then cut the butter into the flour mixture (stir it around, but not too vigorously), add the milk and stir just until dough clings together, don't over stir.  If it feels too dry, add a bit more milk, you'll want it to hold together but still be a wet dough.  Scrape it out onto a floured countertop.  Roll it out into a rectangle, using enough flour so it's not sticky, roll gently and not too much or they won't turn out fluffy.  Fold the dough over onto itself, flatten again and do this 4-5 times so you end up with dough about 3/4-1 inch thick and about 8-9" by 10-11" rectangle.  (You're forming the fluffy layers to make the light puffy biscuit.)  Use a glass about 2.5" diameter to cut out circles and place onto a parchment paper lined or buttered cookie sheet (never Teflon) -- they can be touching just on the sides to get them all onto one pan, but not too close.  With the pieces leftover just lightly smush them together (remember not to handle this dough too much or they won't be fluffy) and either roll them and flatten into a biscuit shape with your hands, or use the glass to cut circles into the rest of the smushed-together dough until it's all gone.
Bake for 11-13 minutes or until a light golden brown.
Adapted from my Better Homes & Garden's cookbook -- here are some variation suggestions they listed for these homemade fluffy biscuits:
--For cornmeal biscuits replace 3/4 cup cornmeal flour for some of the other flour.
--For garden biscuits add in 2 Tablespoons finely chopped carrot, 1 Tablespoon finely chopped parsley, and 1 teaspoon finely chopped green onion to the mixture.
--For sour cream biscuits use 1 1/2 cup sour cream for part of the milk.
If anyone has tried these variations, let us know how they come out!
Did you make a real food recipe?
I want to see it! Tag @KitchenKop on Instagram and hashtag it #KitchenKopRecipes OR share anything you know I'll love by tagging @KitchenKop and hashtag #KitchenKop -- see you over there!
Be sure to read the comments for some GREAT tips!
Please share examples of how you got creative with leftovers, or let us know of any "general" tips you know of for using up what you've got, too!
More you might like: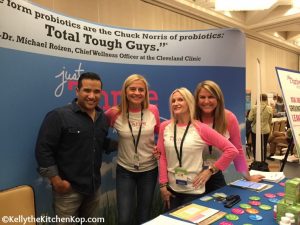 Meal Planning Help!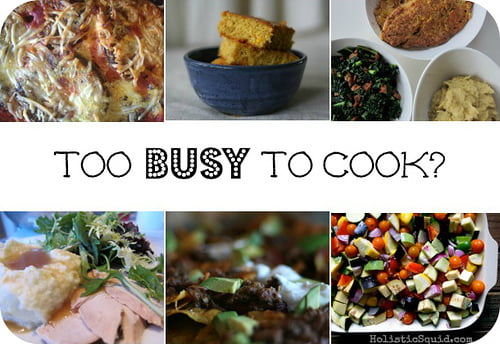 Sick of planning meals and answering the question, "What am I going to feed these people?" No matter what kind of eater you are (traditional, GF, paleo, vegetarian)… Check out these affordable interactive easy-to-use meal plans where the work is done for you.  NOW recipes also available from Nom Nom Paleo, The Paleo Mom, and Wellness Mama all in one spot!  You can read over my review here.