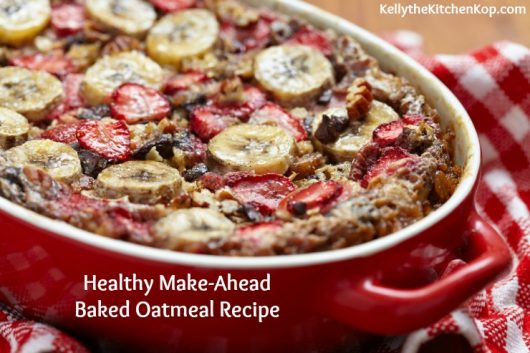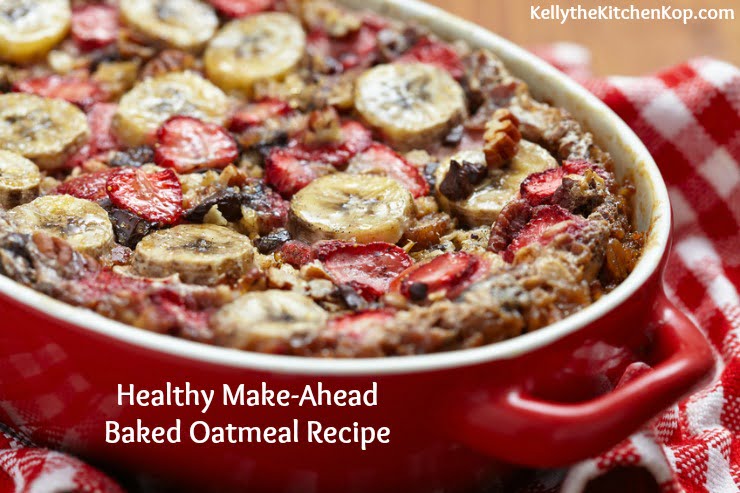 Healthy Baked Oatmeal Recipe
Yield 1 9x13 pan
Ingredients
2 1/2 (2.5) cups organic oats, steel cut or regular, but I like regular best. (Get organic oats here.)
Optional but recommended:  1 Tablespoon whole grain flour – this provides phytase to help break down the phytic acid in the oats for more nutrition – read more about that here.   (Get whole grain flour here.)
1 3/4 (1.75) cups milk (or water if you're dairy-free) — again, optional but recommended to break down to phytic acid, is to add 1 1/2 (1.5) Tablespoons of whey, lemon juice or vinegar to the milk.  OR just use 1 3/4 (1.75) cups buttermilk, yogurt or kefir.
4 eggs (preferably from pastured hens for more nutrition, and who wants to eat factory-farm eggs anyway?)
½ cup real maple syrup, palm sugar, or raw honey (click the links for where to buy)
1 teaspoon aluminum-free baking powder – many have said they leave this out and it's still really good (Get aluminum-free baking powder here.)
½ teaspoon sea salt (Get real sea salt here.)
2 teaspoons cinnamon
2 teaspoons organic vanilla (Get organic vanilla here.)
2 cups raisins or dried cranberries
2 cups chopped apples or pears, or maybe some strawberries or bananas
Optional: 2 cups chopped crispy nuts (or sprinkle on each individual serving after baking)
Variation idea:  Sarah suggested in the comments that along with some dried cranberries, you could also add a few drops of this orange essential oil and make it a yummy cranberry orange baked oatmeal!  ***See the comment stream where we discuss using essential oils in food.
***I add a scoop of this collagen for even more nutrition!
Instructions
Soak oats, flour and liquid covered on your kitchen counter overnight.  (I don't always remember to do this 24 hours ahead, but if you can remember, that's better in order to break down more of the phytic acid — an anti-nutrient found in grains that binds with minerals.)  In the morning, beat oil, sugar, and eggs until glossy. Add baking powder, salt, cinnamon, and vanilla and beat. Stir in nuts, raisins and/or fruit.  Sue said that she'll sometimes add a little more milk at this point if the mixture seems a little too dry.  Pour into 9×13 buttered baking pan and bake at 350* for 20-40 minutes, depending on your desired consistency.  If you like it moist, bake it for less time.  (Note that butter keeps it from sticking better than coconut oil does, in my opinion.)
Make-ahead note — this is an easier way and it's how I always make it these days: 
Mix all the ingredients together ahead of time (mix wet ingredients and dry ingredients separately, then stir together, lastly stir in the fruit or nuts of choice), pour into a buttered 9×13 baking pan, and then set it in your oven with the auto-bake feature on so you wake up to the delicious aromas in the morning.   Don't forget to make an extra pan for your freezer, you'll be SO happy you did when you've got a busy morning!
Serve with butter and a little more real maple syrup if desired, but it's really good all on its own!
One more thing:  In case you're wondering why the oats don't need to be drained after soaking overnight, Jenny from Nourished Kitchen has this to say:  "You don't have to because the phytic acid is degraded.  It doesn't leach into the water like oxalates do."
Recipe by Kelly the Kitchen Kop at https://kellythekitchenkop.com/healthy-baked-oatmeal-recipe/