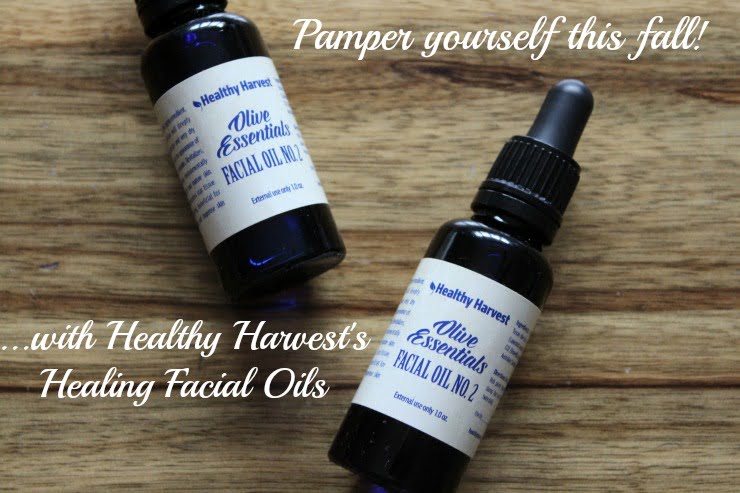 If you've been looking for a pure, moisturizing, healing facial oil for any skin issue, I found something for you…

Since most of you reading this blog really care about your health, I'm assuming you have some type of bedtime routine that you follow, at least most of the time.  I'm ashamed to admit that while I've always done the obvious things like take out my contacts, brush my teeth, and change into my PJ's, it was only recently that I started adding in a skincare step.  I just never "needed" to, thankfully my skin has always been healthy.  But alas, since I'll be 49 soon (WTH?!), I had just started thinking about adding in some sort of moisturizing/anti-wrinkle regimen when I was chatting with my friend Karl on the phone one day.  Karl is the one who sells my FAVORITE olive oil along with other healthy foods and products, online AND at Colorado farmers markets, and he was telling me that his new moisturizing/healing facial oil has been very popular and is selling like crazy, so he sent me some to try.
I love how it feels going on, and how the essential oils help to relax me before bed.  I wake up with soft smooth skin and not a touch of greasiness!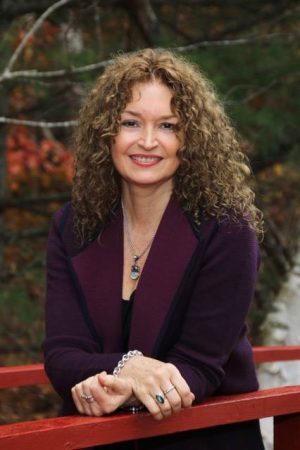 The more I dug in to learn about these facial oils, the more I was impressed.  Turns out Karl teamed up with an essential oil expert, Stephanie Tourles, (she's also longtime Mother Earth lecturer, author, herbalist and esthetician) to create these oils that are made with organic certified or wildcrafted essential oils and ultra-fine, low acid organic Tuscan olive oil from a 213 year old Tuscan estate.
Here's a great quote from Stephanie:
If you want to have beautiful, healthy skin for life, then you've got to stop slathering it with crap (and stop eating a diet full of crap – that's a given) – plain and simple. Pardon my frankness, but that's the truth. Let me explain why I say this . . . and I deliver this message during every presentation that I make about skin and body care:  Your skin EATS!
Most store brands are NOT made with safe ingredients, and others are in the $100/ounce range, zowie!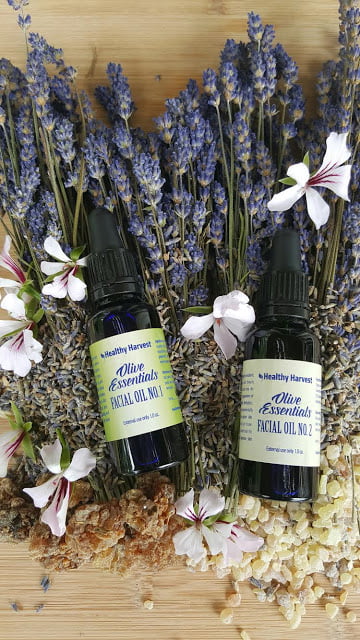 However, the Healthy Harvest healing facial oils are only $40/ounce.  I'm not going to pay more for "fancy" ingredients that aren't even safe or healthy for my skin.  I love the simplicity of these oils.  Facial oil #1 and facial oil #2 both have only unfiltered, raw, enzyme-rich, LIVE ingredients that are food for your skin, they're not heated, killed or processed.  The essential oils are wildcrafted (ethically harvested from the wild) or organically produced, nothing is diluted or grown with pesticides or synthetic anything, with just a few ingredients that all have a purpose.  They are ultra-pure and guaranteed to contain no synthetic fragrances, silicones, mineral oils, parabens, GMO ingredients, phthalates, propylene glycol, DEA, EDTA, acrylates, nano technology, BHT, or any other questionable ingredients.  And, positively no cruel animal testing.
***If you want a safe, effective, pampering facial oil to give your skin the healing nutrients it needs, click here to try these healing facial oils from Healthy Harvest and get 5% off with code KOP.  
How to use:
Just apply 4-5 drops into your palm, rub palms together, then gently massage (using upward and outward strokes) into your clean, damp chest, neck, and face every morning (as long as you allow time for it to soak in) and evening.  This oil is light and velvety on the skin, unlike many olive oils which tend to be more heavy.
Just as I want my food to have a short simple ingredient list, I want the same for what goes on and through my skin:
1.  OLIVE ESSENTIALS Facial Oil No. 1: This rejuvenative, gentle, protective, skin-nourishing treatment oil, when used consistently, will seal in moisture and balance and tone most skin types, including combination, normal, dry, and mature.  An especially soothing herbal remedy for inflamed, chapped, cracked, and environmentally-damaged skin.  Contains antiseptic, antifungal, anti-inflammatory, vulnerary (tissue healing), emotionally uplifting, and anti-anxiety properties – a truly multi-purpose oil blend.  Does wonders for skin suffering from acne, too, as it helps rid the skin of nasty, subsurface bacteria.
– Ingredients: Organic Tuscan olive oil; essential oils of organic French highland lavender, organic geranium, wildcrafted myrrh resin, and organic palmarosa.

2.  OLIVE ESSENTIALS Facial Oil No. 2: With consistent use, this highly emollient, luxurious formulation will seal in moisture – deep within the tissues – and is recommended for normal-to-dry and very dry skin, helping to reduce the appearance of visible fine lines and wrinkles, plus it helps to prevent and/or delay the onset of future wrinkles.  Revitalizes, tones, and tightens environmentally damaged, lackluster, and mature skin.  Softens and retexturizes scar tissue.  Gentle and calming, beneficial for reactive, sensitive, and couperose skin conditions, too.
– Ingredients: Organic Tuscan olive oil; essential oils of organic French highland lavender, organic frankincense CO2, and organic Australian sandalwood.
Click here to read more about the specific EOs found in this healing facial oil.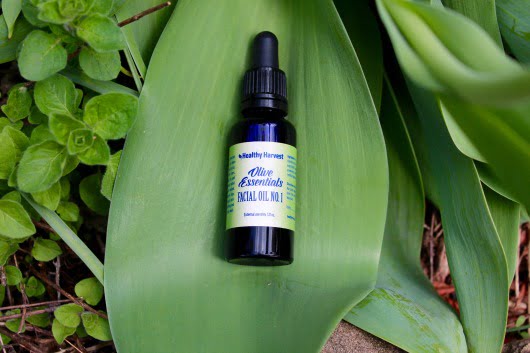 Stay in the loop!
This post was originally paid for by HealthyHarvests.com, but I know you'll love these healing facial oils as much as I do.  🙂