Good morning reader friends.  It's almost 8:00 am Monday morning and I'm just now starting on this post, a little late today, but I'll see what I can pull together for you — I hope the kids sleep in a while!
First, I hate clichés, I really do, but still have to ask:  Where the heck did June go?!  It's been a roller coaster with Mom lately, good days and bad, in the hospital and out, but I'm just trusting God to see us through.  I'm sure all of you who have been through this can relate to how crazy-difficult this is.
Here's what I've got for you this week…
I'm still in shock (happy shock) and wondering if I read this wrong:
After nearly 40 years of federal and state court battles, after every mainstream news organization towing the establishment line participating in and promoting one propaganda campaign after another in an attempt to quash and marginalize this innovative technology in the public's eye, after a massive underground astro-turfing campaign attempting to do the same, and after the most recent 2013 FDA "inspection" effectively closed the pubic's ability to gain access to Antineoplastons (ANP)—science has once again prevailed.

It was announced last week that the Food & Drug Administration (FDA) has lifted all its previous sanctions against The Burzynski Research Institute, Inc. (BRI)—now encouraging BRI to commence with Phase 3 clinical trials to lead this therapy into the open market. BRI's stock jumped from $0.03 to $0.14 a share within days of this announcement.

The FDA is implicitly telling us that Antineoplastons are safe and effective by allowing this innovation to continue with its final approval process."  (Source)  See my previous post on Dr. Burzynski:  "Will the Real Quack Please Stand Up."
If you've thought of implementing the GAPS Diet for yourself or your kids to seal the gut lining and HEAL digestive issues, behavior problems, learning issues, anxiety or depression, and many other related health concerns, Cara's GAPS intro e-book is on sale right now!  Click that link to learn more.
BTW, here's my little FB reminder: don't forget to go to my page, and next to the 'like' button, click the drop down thingy and select "get notifications" otherwise FB plays games and doesn't let you see my stuff!
14 Foods You Should Never Eat – I thought that was an interesting article.  Which ones resonate with you?  Which did you agree or disagree with?
The strawberry one made be reeeeally happy that I just bought and cleaned a bunch of organic strawberries to fill our freezer with.  (Probably not enough to last me, I ran out of time with Mom being sick, but now I know that when we run out, we'll either not eat any in our superfood smoothies, OR I'll bite the bullet and get frozen organic strawberries from the health food store.)  This will freak you out if you eat conventional strawberries:  "While filming Food Inc., Kenner says he wanted to film strawberry farmers applying pesticides to their fields. "The workers wear these suits to protect themselves from the dozens and dozens of known dangerous pesticides applied to strawberries," he says. "When I saw this, I thought to myself, if this is how berries are grown, I don't really want to eat them anymore. I haven't been able to eat a nonorganic strawberry ever since." Unfortunately, for the food-concerned public, he wasn't able to get the shot of these farmers. "I guess they didn't think it looked too appetizing."
Buy one get one free sale! (A rare occurrence)  This is what we take as a family because it tastes the best, plus it combines 4 nutrient-dense oils/fats, it's an awesome source of the fat soluble vitamins and healthy fats that are mostly lacking nowadays–the same vitamins that are also necessary for mineral absorption. I much, much prefer real food sources to isolated vitamins, as I believe the body uses it more efficiently and safely.   Click here for the sale. Click here to read about our experience with it.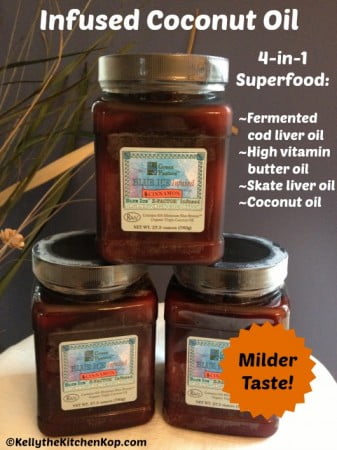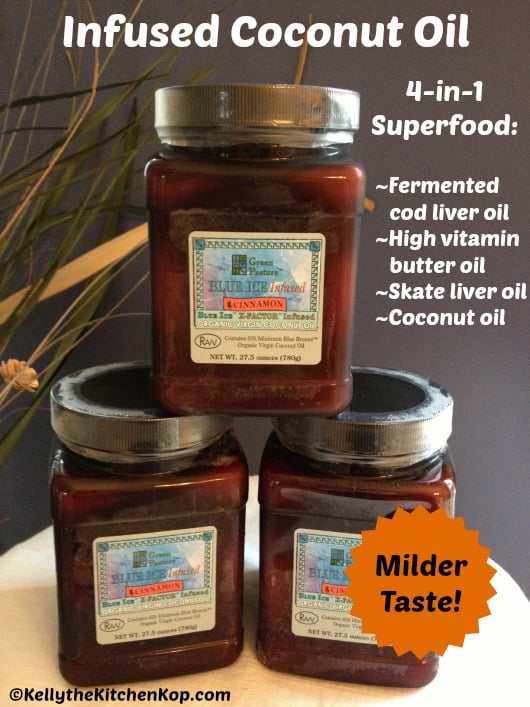 I loved this article for moms:  The choice I hope moms will make this summer.   My favorite is taking the kids to Lake Michigan, I feel so blessed to only live about 40 minutes from such gorgeous beaches and clean water!  THAT water I love to play in, as long as it's not too frigid.  🙂
Are you familiar with the Farm to Consumer Legal Defense Fund?  I love those guys because they are fighting to keep our right to garden, farm, or buy REAL local food intact.  Funny that those rights even HAVE to be protected, but they DO.  Hopefully you can help them, in a small or large way.
It may not be "soup weather", but we always need to take in good broth, right?  Have you seen Kimi Harris' beautiful book, Ladled?