You won't believe the shocking email I recently received from a reader…and you really won't believe the surprise ending to the story.  (You may want to first click here for a basic GMO definition.)
Nancy's email:
Dear Kelly, I am a big fan of your website and have been eating traditionally for about 6 years. I recently found some corn nuts at the dollar store and emailed the company to find out if they used GMO corn. I was shocked and hurt by the response I received! I wanted you to read it and see if there was anything I could do to get the word out on a company with such blatant disregard for their customers.  Thanks for all you do in the fight for eating traditionally.
Nancy's letter to Amport Foods:
I just recently purchased your product, "corn nuggets".  They are delicious but I was wondering if you use GMO corn in them and is there any additives in the salt you use to season them? Thanks for a good product!
Amport Foods responds:
Thank you for your contact.  We are not aware of any GMO free corn in the U.S.  We feel it is a ridiculous concern based on very poor science.  Salt is salt and we package and label as required by law.  We appreciate your interest and patronage, but if these concerns are truly important to you, you may be better served at a health food store.  We appreciate your patronage.
The Customer Support Team
American Importing Co., Inc.
Minneapolis, MN
www.amportfoods.com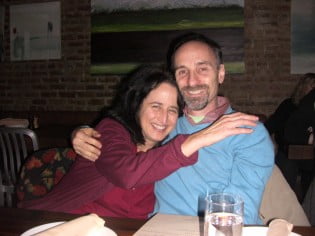 The Big Guns
I emailed Jeffrey Smith, who leads the fight for a GMO-free food supply, and he had the perfect positive response:
When ignorance is so unveiled, it can be used to our advantage to spread the word wider.
Don't you love the "glass-is-half-full" type?! (Pictured here is Jeffrey with his wife, Andrea.)
So he and I are both blogging about it, and we hope that you'll help, too…
Jeffrey also posted about this on The Huffington Post and when you read that, you'll find out the AMAZING surprise ending to this story!
The Ultimate Goal:
We want to GET GMO INFO ON FOOD LABELS, so the same change takes place in the public mind as it did after foods with trans fats had to be labeled!  All of a sudden everyone began talking about it, they learned about the dangers, and the food industry listened.  Even those who are far from being Real Foodies now know that trans fats are bad.  We can do that with GMOs, too!
Find out more: