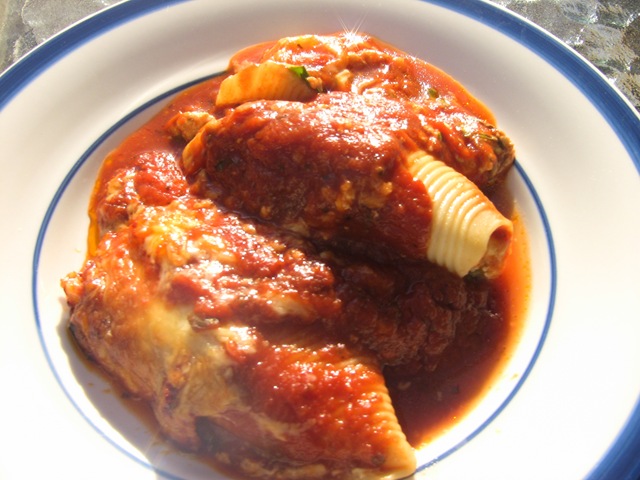 What do you think about this new post idea?  I won't post a food flop every Friday, but now and then I'll share my latest kitchen bummers because I certainly have my share.  (Yes, that's my bread in case there was any doubt.)
I hope you'll grab that picture and share your own food flops at your blogs and then leave a link in the comments below!
So here's my Friday Food Flop for today:
A couple weeks ago we had extra raw milk, so I made a double batch of yogurt cheese.  Our herbs are going strong on the deck, so I decided to throw both together for a yummy stuffed shells pesto filling.  I didn't write down the recipe since it flopped, but here's what I remember:
2 batches yogurt cheese (from 2 quarts of yogurt)
Container of Daisy cottage cheese
Garlic
Splash of balsamic vinegar – 1/8th cup or so
Splash of olive oil – again, about 1/8th cup or so
I blended it up well in the food processor, because I love a velvety smooth cheesy filling, and it was good when I taste-tested.  I had high hopes as I filled the shells, added our favorite sauce on top and then plenty of shredded cheese.
The Letdown:
It came out only ok.  The flavor was still crazy good, but the cheese curdled or something and ended up having a weird consistency.  BUMMER!
Anyone know what I could do different next time?
Do you think it was the balsamic vinegar?  If so that will stink because the extra "pesto" flavor is what made it so good (before it was baked anyway) and made it different from a basic stuffed shells recipe.  Not that I don't love a good Italian Stuffed Shells recipe, but this kicked it up a notch.
HEY, I just had an idea as I was typing this up…
I think next time I'll cook the shells, add the filling, heat the sauce in a pan and pour it on top, throw on the shredded cheese and then just put it under the broiler long enough to melt the top.  Hopefully this way the cheese inside won't curdle, everything else will be hot from the sauce, and the enzymes and nutrients from the raw yogurt cheese will all still be there, too, unlike with the other recipe when everything is baked!  I'll let you know after I try it.  🙂