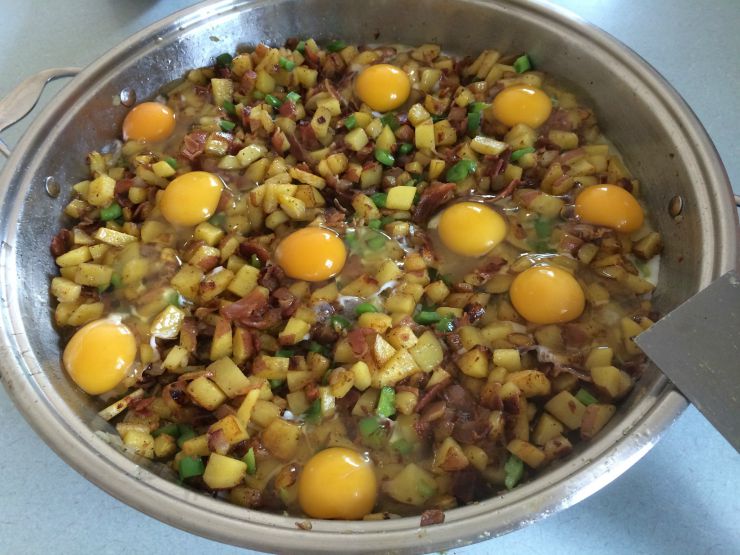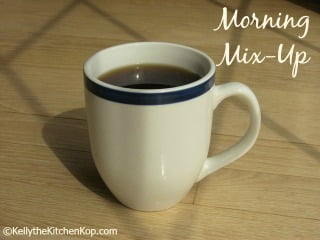 Good morning readers, pictured above is our family's favorite breakfast (and MY favorite pan, too).  Doesn't it look sunshiny and delicious?  I had onions, potatoes, and green peppers from our CSA, eggs and bacon from the farm, and of course lots of pastured butter.   Get the recipe here.
I'm excited for tonight, it's our local WAPF chapter's annual potluck at Lubbers' Family Farm — one of the most beautiful places on earth.  🙂  If you're local, click here to connect with our Grand Rapids, Michigan chapter.  If you're not local, find YOUR chapter here.
Speaking of the Weston A. Price Foundation, I just got my ticket to go to Anaheim for the big conference this fall — register here and let me know if you're coming so we can meet in person!
Here's what I've found for you this week…
Did you catch my Monthly blog recap?  You can scroll through and see all the juicy stuff you missed.
Don't you love this hip beer bottle cap?  (Thanks to my friend Carrie for sharing it!)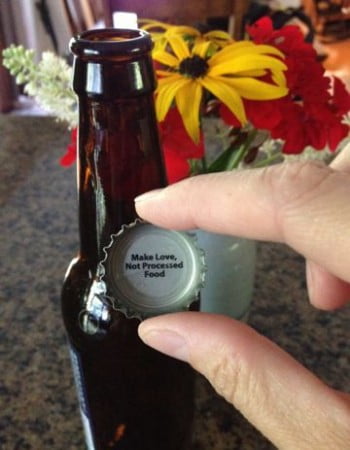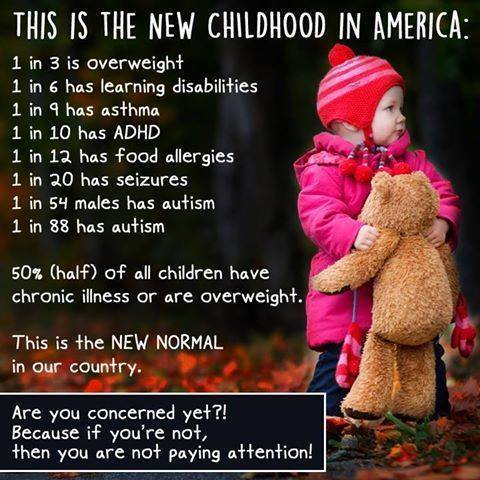 This Mike Wallace interview in the video below says it all…  he nails this guy from the CDC about the danger of the swine flu vaccine (which he knew and didn't disclose) and he's left squirming in his chair.  Read more here.  A friend of mine wrote a post about how her husband, David, refused the flu shot (his father has Guillian-Barre Syndrome), read the post here:  Mandatory Flu Shots for Health Care Workers.  Read David's book about the whole ordeal here:  The Man Behind the Mask.  A reader on Facebook said, "I believe Johnny Carson joked about it calling it the "cure with no known disease!"
Thank you Tina for sharing this with me:  Lab tests show McDonald's "devastates" gut health.  (And other fast food I'm sure.)
And thanks to my friend, Susan for sharing this:  "This article talks about the dirty dozen and the clean 15, but they seem to think that you can make the dirty dozen better simply by washing it!!  LOL!"  Click here to read the article.
So much was popular on Facebook this week!  I'm going to link to the Facebook conversations so you can join in if you want to, or just click the link there to read the story that goes with the headline here:
I love to close with a cheesy, mushy, WONDERFUL video whenever I can (feel free to send them to me!) and this one is AWESOME!
Have a good rest of your week everyone!
(Affiliate links are often included in Morning Mix-up posts.  Check out my affiliate disclaimer here.)