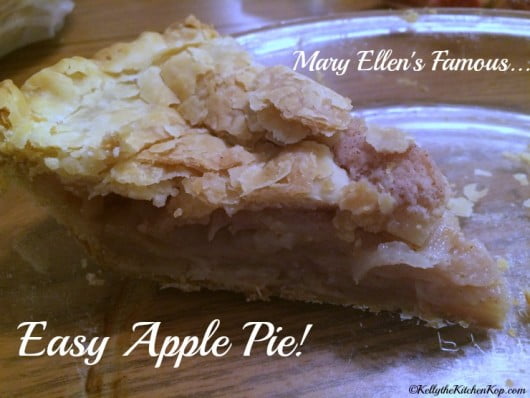 Mary Ellen's Famous Easy Homemade Apple Pie
Yield 10 inch pie pan
Ingredients
Crust -- note that this makes two pies with two pie crusts each, one for the bottom and top — Mary Ellen's pans are 10 inch:
Filling (enough for one pie):
Instructions
Mix flour, sugar, salt, cinnamon and nutmeg together, then stir the apples in and toss everything around well.  Set aside until your bottom crust is ready.
Make your crust...  Blend flour and shortening together.  Place vinegar, egg and salt into a 1 cup measure, and fill it the rest of the way with water.  Mix it with the flour and shortening until it's all stirred in and not too sticky. 
Separate the dough equally into 4 pieces.  Using a rolling pin, roll out two separate crusts at a time onto a floured surface until each one is a little bigger than your pie pan.  Roll the crust carefully over the rolling pin, carry over to your ungreased pie pan, and then unroll, being careful not to let it rip. (If it does, just smush it back together.) 
Pour the filling over the top and place 5 thick pats of butter around the top of the filling.  Moisten the edges with a little milk, so your top crust will stick to the bottom.  
Move your second crust onto the filling, pinch the edges together and tuck the crust under all around the edges.  Don't forget to make two slits in the top so it doesn't explode in your oven.  
It doesn't have to look perfect, but it will taste that way!
Do the same for your 2nd pie.
Bake at 400* until golden (or a lower temp if your oven runs hot like mine does), start checking it after 40-50 minutes or so.
Recipe by Kelly the Kitchen Kop at https://kellythekitchenkop.com/easy-homemade-apple-pie-recipe/