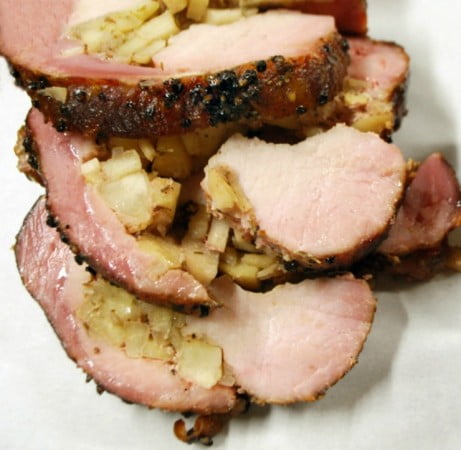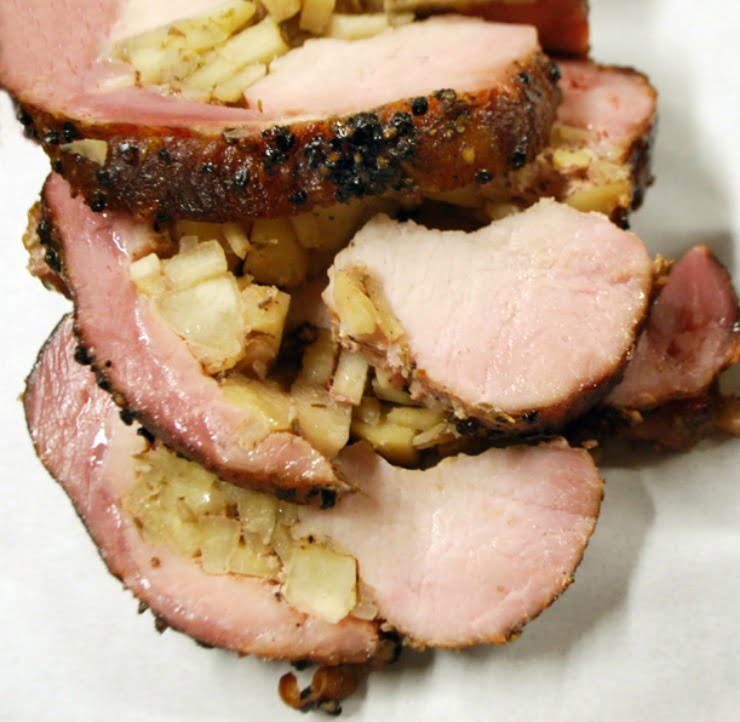 Easy Asian Pork Loin
Yield 4-8 servings
Ingredients
2-4# pork loin (from a good farm with healthy animals - rarely found in a grocery store)
1 onion, chopped, I use organic
4-5 cloves garlic, chopped
2 organic apples, chopped
1 can of pineapple "tidbits" in pineapple juice (no high fructose corn syrup)
Sweet and sour sauce ingredients:
1 1/4 cups chicken broth
1/2 cup palm sugar
1/3 cup red wine vinegar
2 teaspoons fermented soy sauce
1/4 cup cold water
2 Tablespoons arrowroot flour
Instructions
Cut a slit down the center of the pork loin, and put inside the open meat:  the chopped onion, garlic, apples, and pineapple.  Wrap it up tightly in parchment paper and then foil to keep the juices in.
Bake until a thermometer reads 145* at the thickest part of the meat.  We baked it inside our covered stone for 35 minutes at 325*, then another 35 minutes or so at 400*.  (Because we had to turn the oven up for the muffins we were having with it - see recipe for those below.)
Meanwhile, make the sweet & sour sauce...
In a medium saucepan add broth, sugar, red wine vinegar, and soy sauce.  Bring to a boil while you mix the water and arrowroot together, then add to the sauce and stir until thickened.
You could serve with this rice that we use lately or germinated rice!  If so, you probably will want to double or triple the sweet and sour sauce recipe, though, so you have more to serve it with.
Recipe by Kelly the Kitchen Kop at https://kellythekitchenkop.com/easy-asian-pork-loin/