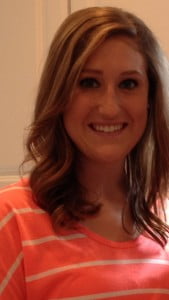 My 19-year-old niece came over the other day because she wanted me to show her how to make bread with freshly ground flour, and it was a blast because she obviously gets it.  She told me how difficult it can be watching her friends eat junk, and how when she says something they think she's crazy; so I had her read my post, Life Changes and 5 Ways They're All the Same, because in there I talk about how it's normal to be attacked when you make positive changes.  Anyone else go through that with your friends and family?
We went to the grocery store so I could show her around (I was in my glory I tell ya!) and saw something there that really bothered me…  In the soup aisle we were talking about how pathetic all of the broths and soups are and this guy walked up.  He had two kids with him and when he grabbed a few cans of this, I picked one up to look: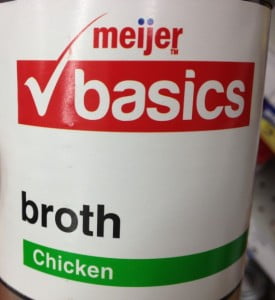 The label was shocking, worse than I expected: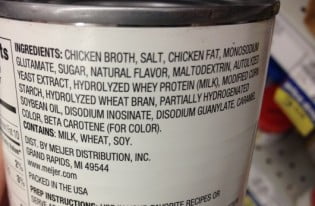 MSG, sugar, all those preservatives, and not only soybean oil, which is one of the worst of the nasty vegetable oils, but partially hydrogenated soybean oil – which means it's also a trans-fat.  The label is an absolute train wreck!  That poor Dad was at the store just grabbing some broth, probably to make some 'homemade' soup, and had NO idea what he threw into his cart.  I'm sure he also had no idea that the simple real food version is a superfood!  None of the nasty stuff listed above, but loaded with gelatin for healthy joints and a healthy immune system, and life-giving minerals, too.  Does that make anyone else really sad, how so many just don't know?
We made my soaked homemade bread recipe, which turned out perfectly except for a couple little things…
First, we made the mistake of setting the bread to rise and then leaving for too long on errands and they fell, DANGIT. At least they didn't fall as bad as this time: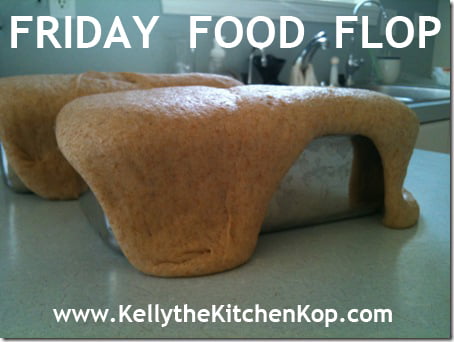 Then I realized that I'd forgotten to make a note in my recipe NOT to grease the pans with coconut oil, because for some STUPID reason, it doesn't work well for that and my bread sticks terribly.  We had to peel off the top so I could get a knife around the edge to get it out.  DOUBLE DANGIT!  At least it tasted really good.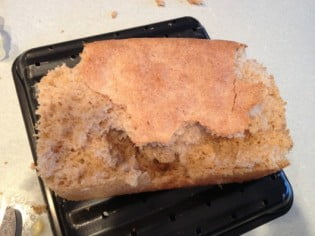 It's not easy being me sometimes.
Here are the links I have for you today:
I always sort of assume that you guys are reading the same stuff I am, but forget that there are new readers coming here daily, so I should remind you to check out my friend, Jenny, and her beautiful blog.  She has gorgeous pictures, and she writes in a way that just feels so peaceful.  Check out this post she did on making Homemade Sauerkraut:  "Homemade sauerkraut, in all its funky humility, is a favorite food in our home – particularly in wintertime when fresh, local produce is a rare treat and we rely on what we've put by over the summer and autumn months.  For us, this means lots of fermented foods and sauerkraut in particular."
If you haven't gotten your Halloween candy yet, here's a video with celebrities talking about a much better brand of candy.  I love this stuff – you can get it here.  You may be like me and unable to afford this for ALL the candy you give out to trick-or-treaters, but we buy it for once-in-a-while treats.
Since we're talking about candy, I figured now would be a good time to ask you:  Is anyone else "the weirdo" at the dental office who refuses x-rays like we do?  Here's my post about it:  Are You Afraid of Dental X-Rays?  I'm also curious how many of you even DO the 6 or 12 month dental cleanings/check ups?  We've sent the kids, but Kent and I haven't been in a while.  How often do you go?
Since Obamacare has everything in the health insurance world shaken up, we're trying to think ahead just in case.  Has anyone out there used the healthcare share programs like Medi-share?  I'm curious what your experience has been?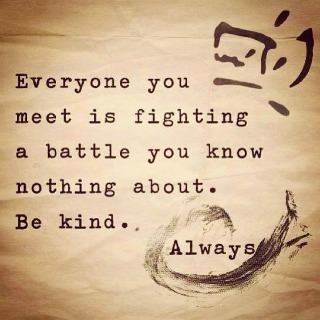 On a lighter note, here's another one I loved last week – does anyone else's legs look like this?!  Ha!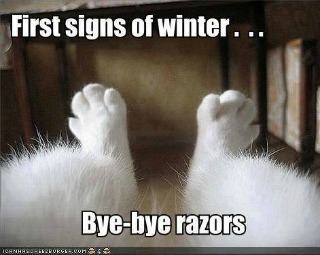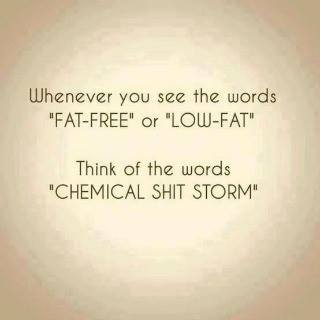 Have you seen this from a Naturopathic doctor's blog on what their family eats in one week (on a WAPF diet)?
Hopefully you already know about the Ugly Side of Food Dyes, but have you signed this petition to get M&M's Candies to stop using artificial dyes, which have been strongly linked to hyperactivity?