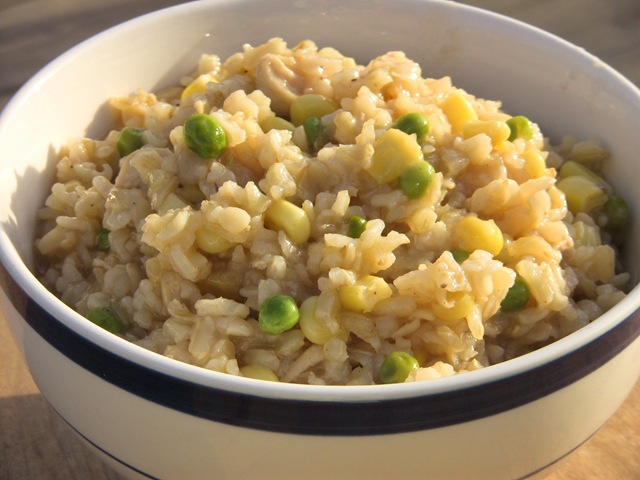 This was a throw-together type of meal where I didn't look at any recipe, I just guessed at what might be good – three of our four kids loved it and wanted seconds! Along with this Chicken Stir Fried Rice, we had some blueberries, raspberries, cherries, and cherry tomatoes from the farm market to snack on. I love farmers market season. 🙂
Chicken Stir Fried Rice
Ingredients:
2 cups germinated rice or Basmati Rice (4 cups cooked)
Homemade chicken broth (however much liquid it calls for for the rice)
2-3 breasts boneless pastured chicken, cut into bite-sized pieces or small strips, or chicken from your roasted chicken dinner (How to bake a whole chicken).  Get pastured chicken here if you don't have a good local source (Or you could omit chicken for a meatless meal.)
Seasonings:  Sea salt, pepper, garlic powder, or whatever you like.
4 pastured eggs
2 Tablespoons (or more to your taste) of fermented soy sauce
Optional extras:  Sliced green onions, peas, corn, broccoli, asparagus, etc.
Instructions:
(Note: in case you're a last minute person like I am, keep in mind that the rice takes about a half hour to 40 minutes to cook before you will make the rest of the recipe.)
Make rice according to package directions, except cook it in the broth instead of plain water.  When the rice has about 15 minutes to go, add some fat (coconut oil, butter, whatever) to a big pan like this one, and stir-fry the chicken with the seasonings until it's done, about 10 minutes or so.  When it's done, crack 4 eggs in the pan with the chicken and stir it around until done.  Add cooked rice and stir, add more seasonings to your taste, and a splash or two of soy sauce.  Add optional extras.  Keep cooking until heated through and serve.
Pretty easy and tasty, too! Also a good way to get more chicken broth, eggs, germinated rice, and coconut oil into your family – all very beneficial foods!
Meal Planning Help!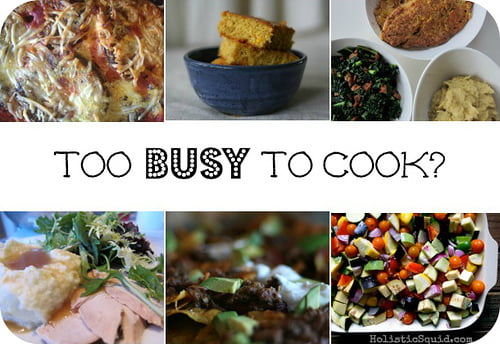 Sick of planning meals and answering the question, "What am I going to feed these people?" No matter what kind of eater you are (traditional, GF, paleo, vegetarian)… Check out these affordable interactive easy-to-use meal plans where the work is done for you.  NOW recipes also available from Nom Nom Paleo, The Paleo Mom, and Wellness Mama all in one spot!  You can read over my review here.