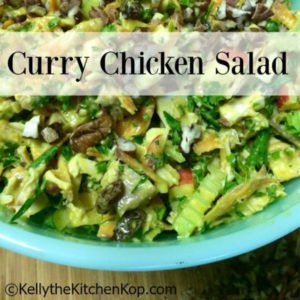 Curry Chicken Salad
*Note: Celery, apples, and raisins (dried grapes) are consistently on the Environmental Working Group's Dirty Dozen list of conventional produce items most contaminated with pesticides. Be sure to only buy organic when it comes to these items.
Ingredients
Leftover roast chicken meat, preferably pasture-raised, about 3 cups (I include the skin) cut into bite sized cubes. If you have much more than 3 cups, it freezes beautifully for future meals.  (Don't have a local source for pastured meats?  Here's a safe online source.)
2-3 celery* stalks, chopped
1-3 carrots, shredded
1/4 to 1/2 cup sliced green or minced red onion
1 apple*, cored and cut into dice
Handful of raisins* (sliced or chopped dried apricots or cranberries would make a nice substitution)
Big handful finely minced fresh parsley and/or cilantro
Any other veggie or fruit that sounds good (diced kohlrabi or jicama would be a refreshing, crunchy addition!)
1/4 to 1/2 cup chopped crispy pecans, cashews, or almonds
About 1 cup curry mayonnaise (recipe below)
Instructions
Combine everything in a large bowl. Nuts can be mixed with everything or kept separate to sprinkle on top of each serving to keep them extra crunchy.
Recipe by Kelly the Kitchen Kop at https://kellythekitchenkop.com/curry-chicken-salad/