The free period is over, but you can still SIGN UP HERE for the cooking class online!
You'll learn:
5 Things Every Real Foodie MUST Have in the Cupboard w/ Amy Densmore
Top 5 Ways to Save Time (and Have Fun) in the Kitchen w/ George Bryant
How to Layer Flavors Like a Five-Star Chef w/ Camille Macres
Fight Disease and Boost Brain Health…with Lemonade w/ Christa Orecchio
Click here to register and watch the videos right NOW (or later, it's up to you!)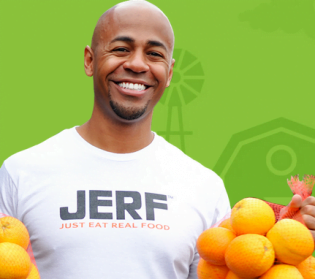 These are all part of a new project hosted by Sean Croxton.  I was excited last year to be a presenter on his Real Food Summit, and now he's got Real Foodies everywhere all abuzz with his newest project:  Real Food Con cooking classes.  These online presentations will be from NY Times best-selling authors, leading doctors, top chefs and other experts who want to help you be as healthy as possible.  Together they're giving you a complete education on how to use real foods to enhance your health in countless ways.
Click here to register!
If you register for the lifetime/full access pass to the class, you'll get the Real Food Con cookbook free.
Learn more or sign up here for the entire Real Food Con All Access Lifetime Package and get the Real Food Con + Cookbook (Limited Time)
Most cookbooks focus on taste…
Or if they attempt to be healthy, they come from one chef or "expert"…
But the cookbook you're about to get is a bit more on the "edgy" side. Because it reveals dozens of recipes from a variety of real food chefs, famous for helping their clients heal…
… ALL FROM THE POWER OF FOOD.
Learn more or sign up here for Real Food Con All-Access + Cookbook
Hippocrates famously said: "Let food be thy medicine."  I have that quote on my business cards I love it so much.  🙂
And he was right — you can heal virtually any health challenge, slim down, multiply your energy, sharpen your mind and so much more — all through the power of REAL FOOD.
Watch Sean's video about the Real Food Con Summit here:
Don't forget to go here to learn more or sign up!