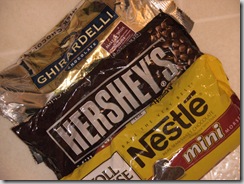 Note:  you can just find organic chocolate chips here if that's what you're looking for.  🙂
Yes, I know I shouldn't be including chocolate chips into my baked goods too much, due to all the sugar, but I happen to LOVE them, so they're still in the house.  However, I know that I don't want to give my kids chocolate chips unless they're GMO-free.
(Click here for a basic GMO definition.)
First, read this GMO post if you want to know what is the big deal with GM foods, a.k.a. "Frankenfoods".
On to the scoop about chocolate chips
…because after all, chocolate is pretty important in the whole scheme of things…are ya with me?
I called each company, and this is what I found out when checking out the three brands of chocolate chips that are on our local grocery store shelves (and it drives me crazy that this information isn't just listed on their labels!):
Nestle – they use GMO ingredients and gave me a long spiel about how their products are perfectly safe and how GMO's haven't been proven dangerous, blah blah blah.  I told her, "I'm sorry, I know you're just saying what you're supposed to, but that's not a risk I am willing to take."  (We were told not long ago that trans fats were safe, too.)
Hersheys – I was the first person to ask about GMO's!  So because of that, all they could say was, "Our foods are safe for consumption."  Reassuring, isn't it?  In other words, yes, they probably DO use GMO ingredients.
Ghirardelli – to their credit, they were all over the GMO issue.  Shauna, the gal I spoke to, explained that they were GMO free until they recently started using a new sugar supplier, so now SOME of their sugar comes from GM crops, but they're working to get that back out and she said she'd call me when she knows more in a month or two.  By the way, when I buy white chocolate chips, I have always bought Ghirardelli because they have no trans fats and the others I've seen all still do.
UPDATE – duh, I totally forgot to include organic chocolate chips in this list – those would for sure be GMO-free.  (They're usually expensive so I'm not in the habit of buying them.)  Does anyone know a good organic brand?  (This has probably already been covered down in the comments but I have to run back out the door and haven't read them yet.)
LAST UPDATE (maybe) – my friend Sue just reminded me that she had called Trader Joe's about chocolate chips and they told her ALL their products are non-GMO!!!  Can't believe I forgot that, I'm a bit of a ditz in case you haven't figured it out yet.  Off to catch up on the comments, where you've all probably already said all this…
All this makes a case for avoiding the stupid things, doesn't it?
Anyone have a better source for GMO-free, good tasting chocolate to use in recipes like…oh I don't know…CHOCOLATE CHIP COOKIES???  (Have you seen these grain-free chocolate chip cookies that taste JUST like the real thing?)
***TONS OF GOOD INFO IN THE COMMENTS BELOW!!!