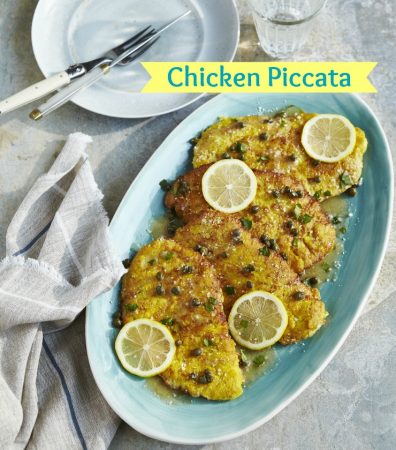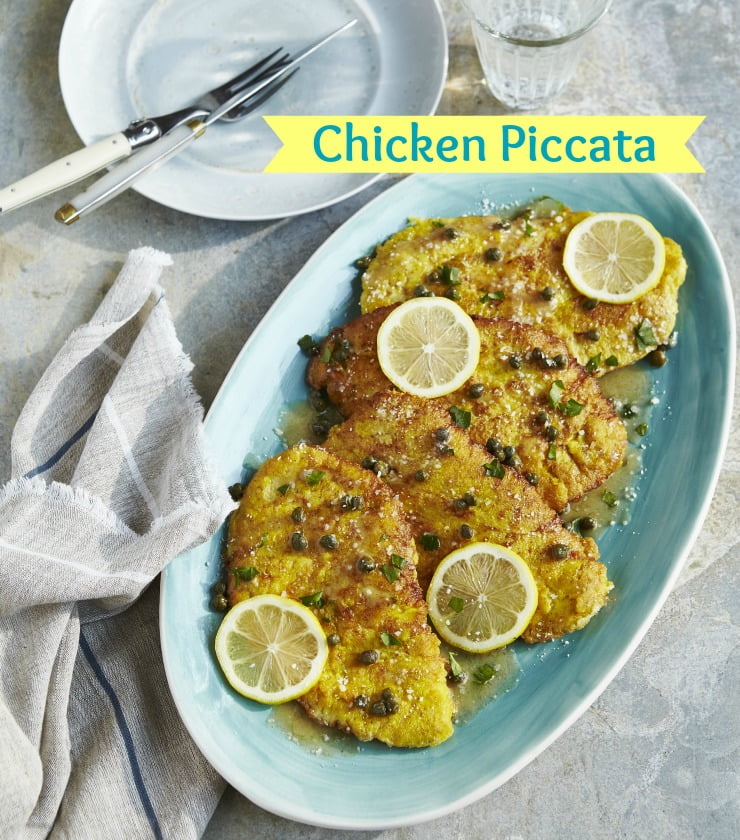 Chicken Piccata from The Wellness Mama Cookbook
Yield 4 servings
Ingredients
3 skinless, boneless chicken breasts (about 2 pounds), find healthy meat options here if you don't have a good local source
¾ cup almond flour
½ teaspoon sea salt
½ teaspoon freshly ground black pepper
½ teaspoon ground turmeric, or more to taste, optional
½ teaspoon garlic powder, or more to taste
2 large eggs, eggs from pastured hens are best
8 tablespoons unsalted butter, pastured butter is best for more nutrients
½ cup dry white wine, optional — I chose to drink my favorite white wine while I cooked it instead  
1 lemon — I only buy organic lemons, since citrus are usually highly sprayed
4 tablespoons capers, optional — I omitted these since I don't like capers
¼ cup chopped fresh parsley — Or dried parsley if you don't have fresh on-hand, but fresh is better
1 ounce grated Parmesan cheese — I used extra because we all love Parmesan!
Instructions
Preheat the oven to 300°F.  Butterfly the chicken: Cut the breasts in half lengthwise and flatten by pounding with a meat hammer or the bottom of a cast-iron skillet until about ¼ to ½ inch thick.  Mix the flour, salt, pepper, turmeric, and garlic powder on a plate.  In a small bowl, beat the eggs with the water until frothy.  Dip the chicken in the egg mixture and let drip well, then into the flour mixture and back into the egg mixture.
In a large skillet over medium-high heat, melt 2 tablespoons of the butter. Cook the chicken for 3 to 4 minutes per side, until browned and no longer pink on the inside. (It may take two rounds to cook all the chicken. Use another 2 tablespoons of the butter for the second round.) Place the chicken on a baking sheet and put in the oven to keep warm. Add the wine, if using, to the skillet to deglaze; otherwise, use water. Halve the lemon and squeeze the juice into the skillet. Thinly slice the other half. Drain and rinse the capers, if using, and add to the skillet. Reduce the mixture by about half and then add in the remaining 4 tablespoons butter, stirring until melted. Remove the chicken from the oven and place on a serving platter.
Drizzle some of the sauce over each piece and top with the parsley, and the Parmesan cheese.  Garnish with the lemon slices and serve.
Recipe by Kelly the Kitchen Kop at https://kellythekitchenkop.com/chicken-piccata-wellness-mama-cookbook/