Good morning readers!  I'm watching Superbowl half-time as I write this and here's how out of it I am:  I've never heard of the guys who are singing first and the songs don't even sound familiar to me.  I really like the music, though, and the dancing is great!  I especially love that it's clean and we can let the kids watch without worrying.  Kent tells me that the lead singer of the Red Hot Chili Peppers is from our little hometown, near Grand Rapids, Michigan.  Cool, huh?
You real foodies might like this story.  It's been so long since anyone was sick around here, I forgot about all the stuff I should be doing now that half of us have colds.  Thanks to our FCLO and lots of healthy fats, our symptoms are pretty mild, but it's been literally years since I've had even the mild sinus pain that I do now.  So the other day it hit me that I need to up the bone broth, and definitely throw lots of garlic and onion in there, so I decided to make this Mexican soup that we all love.
I was bummed when I opened my freezer and didn't have any whole chickens left to use for making broth!  (I did have some chicken broth in the freezer, but you know how it is when you're not feeling well, you just want a pot simmering on the stove.)  So I did what any average real foodie freak would do, I threw in my bag of frozen chicken feet.  🙂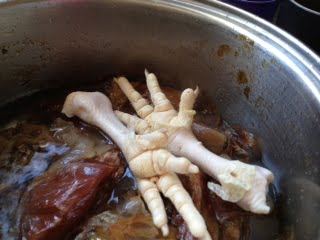 Gads that really is a disgusting picture.  (Here's my original post about when I finally decided it was time to pull up my big girl panties and get those chicken feet into my stock – thankfully my friend, Sonia, helped me.)   Getting those suckers into the stock pot without the family noticing isn't easy, let me tell you.  The boys didn't have a clue, but our daughter, the most observant of the group, spied the package in the trash and firmly announced, "I am NOT eating that."  I think she may have added a little 12-year-old foot stomp with it but I'm not sure.  Later she ate it just fine when I assured her that I used a fine mesh strainer, but when she saw a piece of chicken that she thought looked like a nail, it was almost over right there; so I popped it into my mouth to prove to her that it wasn't what she feared.  I knew it had been strained well, because you can believe that there's no way I'd be eating a nail, either.  Anyway, everyone ate it well that night, but the leftovers didn't fly out of here as fast as they normally do.  The broth was ooooooh so wonderful and gelatinous, though, and I didn't want that 'liquid gold' to go to waste, so I had a good idea for dinner tonight:  wet burritos!  I buttered a baking dish and filled it with organic spelt tortillas wrapped around a couple spoonfuls of organic (canned) refried beans inside and a little hunk of cream cheese.  For the sauce I used some flour and water mixed together and poured it into the bubbling leftover soup to thicken it, then I poured it over the top of the burritos, covered it in shredded cheese, and baked 'til hot.  Super easy and everyone loved it and ate up all that nourishing broth!  We served it with our usual salsa and sour cream.  It feels great getting the good stuff into my family and it also tastes delicious — they all had seconds.
Hopefully I'm not boring you to death, but there's more…  I served it with this carrot salad that is a favorite of everyone's here but our 14 year old — that crazy kid doesn't like lemon.
I'd found organic multicolor carrots at the store and it turned out extra pretty, but my picture didn't, so you just get to see the bag of carrots.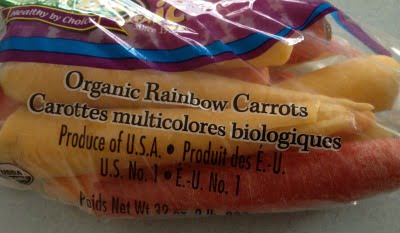 OK onto today's stuff!
I've got a little favor to ask you…  Remember I've told you over and over that "glitch" is my middle name?  Well if you go to my resources page, do you see the sponsor pictures (Go Primal and Outta the Park) like it looks on my phone (the way it's supposed to look) with the text wrapped around?
Or do you see the pictures with the words below it, which is the way it looks on my computer?  If it looks right, with the text wrapping, can you tell me if you're on a Mac or a PC and what web browser you use pretty please?  (Such as:  Chrome, Safari, Firefox, Internet Explorer??)  That's the latest technical headache around here, and I've got a guy working on it but it won't be cheap.  🙁  Thanks for your help.
Have you heard about these non-electric Wonderbag Portable Slow Cookers yet?  They were invented in South Africa as a way for people in developing nations to cook with minimal reliance on energy. The bags are super-insulated, which retains heat for up to 12 hours, allowing you to bring ingredients to a boil (a few minutes on the stove), turn off heat, seal the pot, and place it in the Wonderbag until cooked as desired, without any further energy needs.  What a great idea!  You can buy them here.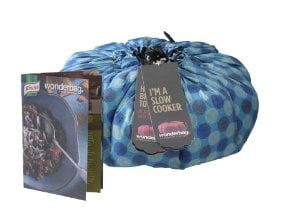 Who'd a thought? McDonald's is planning to transition to "sustainable beef".  "This is an ambitious goal for lots of reasons, not least of which is the absence of any standard for just what makes beef—a very resource-intensive protein—sustainable."  (Source)  Read the interesting comments from Facebook last week or and add yours there (or here) and let me know what you think.
Have I told you guys about my friend, Hallee, who writes the most AMAZING Christian suspense novels?  I loved her Jewel Series books (read them all!), and just finished the 2nd book in the Song of Suspense series.  Here's my review:  "I don't know how Hallee keeps writing these books that make me unable to set them down, but it's happened again. A Melody for James and its sequel, An Aria for Nick, are full of unsuspected twists and turns — I love it when authors can surprise me and go way beyond the predictable. Not only that, there's a depth to the plot in her books that is sorely lacking in any comparable non-Christian book. Lastly, the love stories are very genuine, and without the smut that I just can't stand anymore. (The heat is there, just not the smut.) Both are beautifully crafted stories!"
Farmer Selfies – you've got to check these out – they're all funny in a different way!
If you want to be uplifted, check out this video about a great guy, Johnny, (and a great family) who goes to the same homeschool enrichment building that our kids do:
Have a great week!