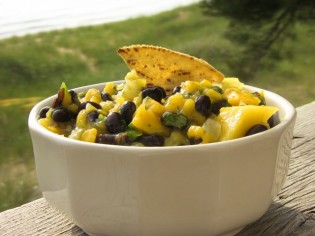 Kathy's Black Bean Mango Salsa
Yield 1 bowl
With a blend of sweet and spicy flavors, this dip is always a hit.  Serve with your favorite organic corn chips.
Ingredients
Fresh mango – about 4, chopped
2-3 medium jalapeño peppers, chopped small
1 small onion, chopped small
2 cans black beans, drained and rinsed
1/2 small can of crushed pineapple with juice
1 bunch cilantro, chopped
1/4 cup pineapple rum (optional, but this gives it good flavor)
Sea salt to taste
Instructions
Stir all the ingredients together and serve with organic tortilla chips.
Recipe by Kelly the Kitchen Kop at https://kellythekitchenkop.com/black-bean-mango-salsa/