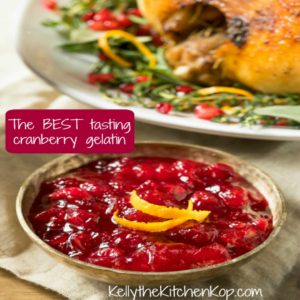 The BEST Healthy Cranberry Gelatin Recipe
You can eat this hot or make into a tasty, cool gelatin.
Ingredients
1 small bag organic cranberries (12 ounces or so) — I found them in the produce section at the store
3/4 cup real maple syrup (You may want to start with less and see if it's sweet enough for you — this doesn't have to be exact, but if it's not enough, it'll be too tart, just try it and see.)
1 cup orange juice — look for one without preservatives or other icky ingredients, fresh squeezed would be great!  (Don't have OJ?  You can also use the juice of two lemons with enough water to make 1 cup, but taste-test, you may need more syrup.)
1/2 cup water
1 teaspoon ground cinnamon
Couple dashes of sea salt
1/2 scoop/ Tablespoon gelatin (click that link for my favorite kind from grass-fed cows)
Another 1/2 cup HOT water
Instructions
None of these ingredients need to be exact.  In a medium-sized saucepan over medium heat, add everything but the gelatin and the last 1/2 cup of hot water.  Boil for 20 minutes or so, until cranberries break up and it begins to look like cranberry sauce.  While it's boiling, in a separate bowl mix the hot water and gelatin together with a whisk, and then stir it into the cranberries.  (If lumps form, pour the water/gelatin mixture through a strainer into the pan of cranberries, but if your water is hot and you whisk quickly, it should be fine.)  NOTE that if you want your cranberry gelatin totally smooth you can strain it with a fine mesh strainer, but I like the little bits of tart cranberry fruit in there and don't mind the occasional seed.
Recipe by Kelly the Kitchen Kop at https://kellythekitchenkop.com/best-healthy-cranberry-gelatin-recipe/