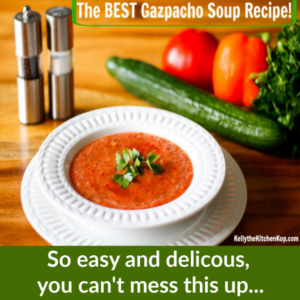 The BEST Gazpacho Soup Recipe
Note in the recipe below that you'll want to use as many organic ingredients as you're able, and *check the "Dirty Dozen" list for those that are most important to buy organic.
Ingredients
1 pound tomatoes (I seeded about half and left the seeds in half, or seed them all if you'd like)
4 pickling cucumbers or 1 regular cucumber, peeled and seeded
1 medium Vidalia or a sweet onion
1 large red pepper, seeded (I add a green pepper too if I have one)
3 cups tomato or vegetable juice (leave this out if your tomatoes are really juicy and you have enough soup without it)
1/3 cup fresh cilantro (You could also add fresh parsley!)
1/3 cup red wine vinegar, rice vinegar, or I'll often use fresh lemon or lime juice
1/4 cup oil of choice I used half avocado oil and half olive oil -- make sure your olive oil is is REAL — click that link for more info.
Avocados for the top -- so yummy and adds in more good fats
And sour cream to serve on top too — we like a lot!
Optional:  sriracha sauce on top — this one is my favorite because it tastes SO good and has no preservatives!
Instructions
Add half the tomatoes, cucumbers, onion, and pepper into a food processor. Add about 1/2 cup of the tomato or vegetable juice and puree the vegetables. While the food processor is on and is pureeing, slowly pour your oil into the food processor.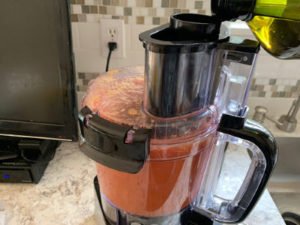 Toss in the cilantro and pulse chop until it's the size you prefer. Dump this puree into a large bowl. Stir in the rest of the tomato/vegetable juice and the red wine vinegar.
Put the remaining vegetables in the food processor and pulse chop until they are the size you like. Combine all these ingredients in the large bowl and give it 24 hours before you dig in, if you can, because the tastes come together even more.
Chop up avocado and add pieces when serving along with sour cream if desired.  Don't forget some siracha if  you like a little kick.  Not too much because you'll still want to taste all the fresh flavors from the vegetables.
Notes
Important: This tastes so much better after 24 hours. Making it in advance is important for best flavor.
How you process it in the food processor depends on how smooth or chunky you want it. I like mine with some texture and small pieces, so I pureed half the ingredients and pulse chopped the rest until they were the size I wanted.
Food processor bowls vary in size. You might need to chop and puree in batches. Just don't skip the step where you slowly add the oil while it processes, that thickens it up.
Some people prefer to strain the puree to get out any seeds or pieces of skin from the tomatoes. If you want to do this, be sure you do it before you add the cilantro.
This is a great base recipe. You can add more or less of anything, leave something out, add something new. It's really hard to mess up!  When I have a TON of tomatoes to use, I just throw them all in and if they're really juicy, you may not even need the tomato juice the recipe calls for.
Recipe by Kelly the Kitchen Kop at https://kellythekitchenkop.com/best-gazpacho-soup-recipe/