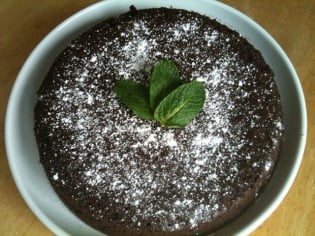 The Best Flourless Chocolate Cake Recipe
Ingredients
Supplies needed:
Wide foil (regular width foil doesn't keep the water out as well)
Large roasting pan for water bath
8.5 inch springform pan
Instructions
Preheat oven to 325*. Put large Dutch oven size pan of water on stove and bring to an almost boil. Coat springform pan with light layer of butter and wrap the wide foil around the outside of the pan to prevent water from seeping in.
Start eggs beating in stand mixer or Bosch on high speed. Beat for about 5 minutes, or until eggs double in volume. While eggs are beating, start melting chocolate and butter in a double boiler over medium heat. Stir often. Add melted ingredients to beaten eggs gradually, slowly folding in each addition with a large, flat spatula or spoon. Fold together only until melted chocolate is mixed with eggs. Don't over mix.
Pour into prepared springform pan. Place springform pan inside roasting plan and place in oven BEFORE adding water. (This is only to prevent spills.)  Fill roaster with water until it is about halfway up the side of the springform pan. (A water bath is used for more delicate dishes and protects foods from direct heat. It cooks slower but that is better for this recipe.)  I used my glass Pyrex measuring cup to scoop water from the pan and fill roaster already on the oven rack.
Bake for approximately 45-50 minutes or until a toothpick comes out clean.  NOTE that this has been taking longer to finish baking lately, up to 15 minutes more or even longer, and Kent thinks it's because we now have a gas oven and the heat is a little different?
I removed the cake from the water bath and placed it on a towel for a couple of minutes on the counter and left the water bath in the oven to cool, to avoid spilling hot water. (I later spilled the cool water while getting it to the sink to empty it, so I'm glad I did this!)  Move cake to a wire rack and let cool in the pan.
Carefully remove the outer ring of the springform pan before serving. I left the bottom tray from the springform pan on the cake and cut carefully to avoid scratching it. I didn't want to risk ruining the cake by transferring it from the springform tray to a plate.
Recipe by Kelly the Kitchen Kop at https://kellythekitchenkop.com/best-flourless-chocolate-cake-recipe-valentines-dessert-gluten-free-chocolate-cake/