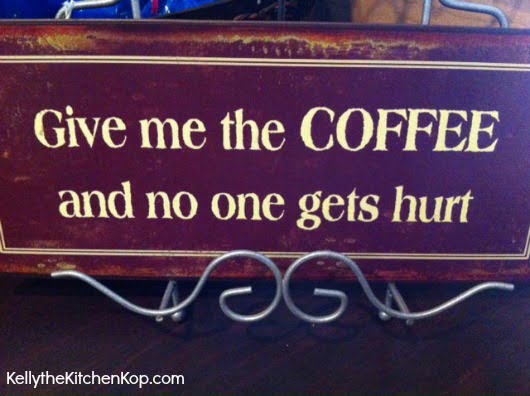 Coffee elicits passionate responses in people like few other topics.  If you've given it up, often due to certain health reasons, then you can probably list all the reasons coffee isn't good for us.  If you have no health issues, enjoy the taste and aroma, and plan to continue your cup-a-day habit, oh… like myself perhaps, then instead you probably appreciate articles like Kristen's, which covers the health benefits of coffee and how coffee is a traditional beverage, after all.  (Just for the record, I'm not talking about those nasty $4 cups of coffee loaded with sugar, or fake sugar, and fake creamers, those are baaaaad.)
No matter where you're at with all of this, you may want to think about good coffee replacements if you're ready to give it up, OR if you plan to continue drinking coffee, there will always be times when you'd like to enjoy an alternate hot beverage.
The following is a reader question I received a while back about coffee replacements…
Hi Kelly –

I am getting ready to tackle the Eat Fat Lose Fat diet, and am slowly integrating changes to my diet.  However, I remember reading from you that Sally Fallon recommended a herbal replacement for drinking coffee.  I am not a coffee drinker, but more of a tea drinker, tea with caffeine, black English or Irish Breakfast, my favorite!  I would like to cut out caffeine, to control the adrenal cycles.  Seems to me the replacement herbal drink is something you can drink hot and it also is an energy booster too.  When I went to Whole Foods the other day, the only suggestions they had for herbal replacement for coffee had caffeine!

I remembered you joking about your coffee and saying, "don't tell Sally Fallon".  Can you tell me what is a good coffee replacement she recommends?

Thank you,

Paula in Omaha, NE
Coffee Replacements:
Do you have any good coffee replacements to suggest?  Let us know in the comments!

Did you read my post from a while back about all the nasty plastic or styrofoam 'chemical cups' that many drink coffee in every day, not to mention the little plastic k-cups for those Keurig coffee makers: A cup of coffee without the plastic toxins please!