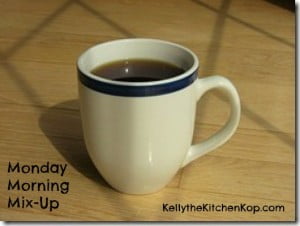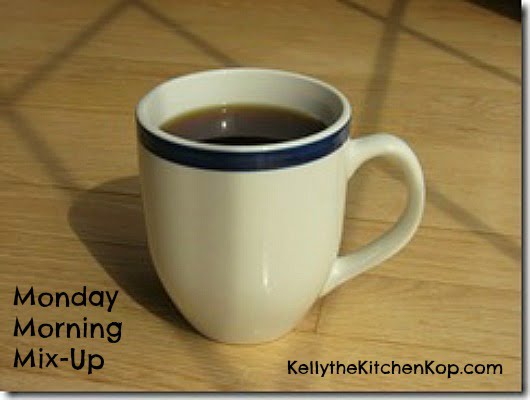 Good morning!  Have you ever gone to a Swiss cheese fondue party?  Our friends had us over last week and it was such an experience!  It tasted delicious, but it was even more than how good it was; it was like being at a fancy cooking demonstration, only extra enjoyable because we were with good friends and sipping on wine.  We watched our friend, Phyllis, put together the fondue in their gorgeous kitchen with a variety of imported cheeses and white wine.  We helped when it was time to put all the dippers on serving plates:  different kinds of breads, red peppers, cherry tomatoes, specialty salami, asparagus, and olives.  The kids thought all of this was pretty fun, too.  It's neat when we can include them in dinner parties like this so they can experience new things, and it also teaches them more about good manners.  For dessert we had a chocolate fondue — that was terrible, as you can imagine.  🙂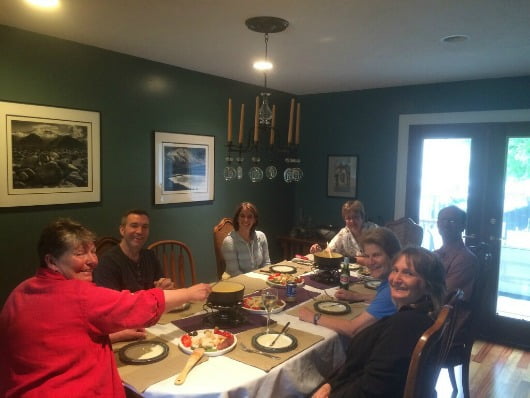 Here's what I've got for you in today's mix-up…
Do you know anyone who is dealing with LICE right now?  Does just that word send a shiver down your spine like it does mine?  My post about how we fought lice and won (Get rid of head lice naturally!) is still one of my most popular posts.  If it happens to us again, though, I'm happy to tell you that now it'll be MUCH easier, because my new sponsors, ClearLice, have all natural and SAFE products that I WISH were around back then.  ClearLice treats

lice

in one day and helps prevent a

lice

infestation.  ***Use the coupon code Kelly5Lice for 5% off here:  ClearLice.com.  "We are a family owned company and created a line of natural head lice prevention and treatment products about 7 years ago.  Our products are pesticide free, toxin free, and smell of peppermint. ClearLice gets rid of lice and nits in one day, guaranteed, even the dreaded super lice you've been hearing about on the news. Lice cannot grow resistant to our formula. It is also gentle on children's heads and safe to use daily."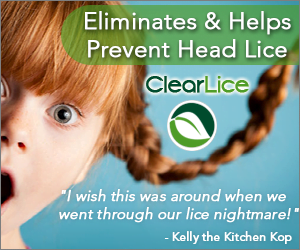 Now that summer is almost here, doesn't it feel great to go barefoot again and "connect with the earth"?  If that sounds woo-woo-hippy-dippy to you, and I guess it sort of is, just keep in mind that there really are health benefits to touching the earth more often.  Walking barefoot in grass or on a sandy beach — don't you just feel better when you do that?  It's not in your head!  That's also why we have an earthing sheet on our bed (pictured on the right), and I keep an earthing mat under my computer desk (pictured at the top of this post) that I try to keep my bare feet on as much as possible, too.  You can get earthing products here, and while I'm sure it's not AS beneficial as being on the earth itself, it definitely helps and is much better than nothing, especially if you're on electronics a lot like I am.  Not convinced?  Yeah, I wasn't either at first…
If you or someone you love struggles with depression or anxiety, be sure and let them know about the free online help that you can find by clicking here:
If you love raw milk, too, and believe in our right to drink it, you'll want to get this new book:  The Raw Milk Answer Book, What You Really Need to Know About Our Most Controversial Food by David Gumpert.  "So controversial is raw milk that obtaining believable information about it has become nearly impossible. On one side, proponents often portray raw milk as a miracle food. In their view, it strengthens the immune system so as to reduce our incidence of health problems small and large–from colds and flu to cancer, diabetes, asthma and allergies–and being extremely safe to boot. On the other side, opponents portray raw milk as having no more health or nutritional value than the pasteurized variety that can be bought in any supermarket. They also view it as one of the most dangerous foods known to mankind–so inherently dangerous it can kill you. Obviously, both sides can't be correct. What is the real story?"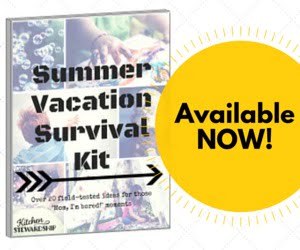 Did anyone start doing 10,000 steps-a-day with me last week?  (If not, what's your summer exercise plan?)  With my regular activity each day it's usually just a matter of getting in a one-hour walk.  If it's rainy or I'm really behind on work stuff I'll use my treadmill desk, otherwise I walk outside.  I've only missed one day so far, and even though I probably look like a loser, I get a lot of phone calls and other work done on my phone while I'm out and about.  Don't judge me, I need to multi-task these days!  And don't worry, I still take some time to look around, smell the lilacs, and thank God for life.  🙂  Or I sometimes listen to good podcasts — does anyone have one to recommend?  I've been using the health app on my phone, but it's a pain because I have to have it ON me all the time in order for all the steps to register.  So I'm thinking of getting a FitBit instead.
I love this video that has been going viral online — an engaged couple gets to see how they'll look as they age:
There's a follow up video too, where they watch the above video on the day after their wedding:
Isn't there just something really cool about those videos?
Did you catch last week's posts? Here they are in case you missed them:
Have a good week everyone!
(Affiliate links are often included in Monday posts.  Check out my affiliate disclaimer here.)