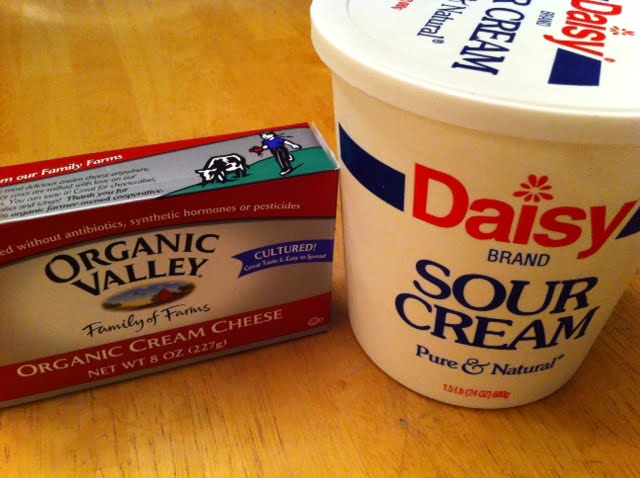 If you're like me, you love a good easy dip with a cream cheese base, no matter what the other ingredients are.  The other night a few girlfriends got together for some wine and chick-chat after the kids were in bed, so I pulled together a couple of these dips really quickly and they were a hit!
Here's the base:
Dip Recipe
Make sure to check out all the different variations below!
Instructions
Mix the above together and add in the following depending on which variation sounds good to you
Did you make a real food recipe?
I want to see it! Tag @KitchenKop on Instagram and hashtag it #KitchenKopRecipes OR share anything you know I'll love by tagging @KitchenKop and hashtag #KitchenKop -- see you over there!
Here are the variations you can add to make the following dips…
Keep in mind everything is optional and up to you or your family's personal tastes!
Jalapeno Dip:
The base recipe above, plus…
2 Tomatoes, chopped small
4-6 Jalapenos, chopped small – I like to leave some of the insides intact as I'm cleaning them out so the dip will have more of a bite
Salsa Dip:
The base recipe above, plus…
Just add a few dollops of your favorite salsa and stir
Ham & Cheese Dip:
The base recipe above, plus…
Sliced ham, however much you want in there
4-6 Green onions, chopped small
Shredded cheddar cheese
Cucumber Dip:
The base recipe above, plus…
Grated or chopped cucumbers
(Homemade potato chips are especially good with this dip!)
BLT Dip:
The base recipe above, plus…
Chopped tomatoes
Crumbled bacon
Shredded cheddar cheese
(Note:  this one might be good spread onto a crunchy piece of lettuce for a grain-free treat?)
Greek Dip:
The base recipe above, plus…
Chopped tomatoes
Feta cheese
Black olives
Green onion, chopped
Here's a similar recipe I posted:  Easy Pita Dip w/ Feta Cheese
Crab Dip:
The base recipe above, plus…  (You'll may want to omit the garlic and onion from this one)
Shredded fresh crab meat if at all possible (Canned has nasty preservatives)
A few squirts of organic ketchup (to avoid the high fructose corn syrup), to your taste
Reader suggestions from the comments:
Just add sundried tomatoes, yum!
Stir in some pesto, another yum!
Fresh dill also adds a delicious flavor
Ideas for dippers if you want to avoid store-bought crackers/chips:
Low-carb/grain-free dippers:
Celery sticks
Pepper slices
Cucumber slices
Fried cheese rounds
Can you think of more ideas or variations?  If so, comment below and I may add some of them to this post!
***Also, if you make any of these dips, would you send me a picture to post by each recipe?  I've only been blogging for about four years, so apparently that's not long enough to have a BRAIN in my head and remember to snap some pictures before pigging out.
More related posts: