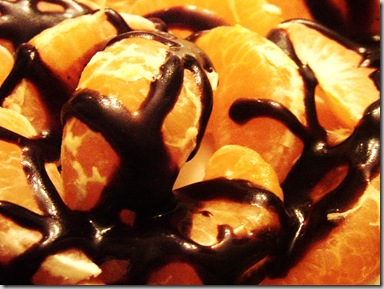 If you love chocolate as much as I do, you'll go crazy over the chocolate fondue recipe below…
First, get yourself some delicious organic California Mandarin oranges — the difference between these and the canned mandarin oranges is literally miles apart.  Even the fresh ones at the store aren't this sweet, and our normally complaining teen (about food) said, "These are really juicy."  So the day they showed up on our porch last week, the kids ate a good share of them right away.  Our four year old peeled his himself, so they're great for a quick snack.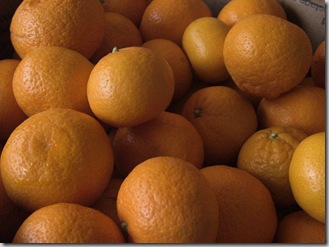 In case you're wondering about our conversation last week, no, they're not local (for us anyway), but I do know the farmer and how they were grown – no chemicals!
I love anything dipped in chocolate, so if you know me, you know I had to try that.  My chocolate dipping sauce doesn't have to make you feel quite as guilty about eating a treat, though, because it has a few more nutritious ingredients than your average dessert, like butter, coconut oil, and more natural sugars.  (Yes, natural sugars are still sugar, though, so don't make this a lot.  I say that all the time and keep posting dessert recipes, don't I?  I told you I have a sweet tooth.)  I played around with the recipe and came up with this one by making a sort of cross between my homemade hot fudge recipe and the homemade coconut candy recipe.
Chocolate Fondue Recipe with Coconut Oil
Ingredients:
1/2 cup organic coconut oil (A coconut oil sponsor is not on my sponsor page yet, but if you buy it through the link in this deals on coconut oil post, you'll still be helping me because I'll get a small commission.  The price is the same for you.  This is the kind that I buy and with free shipping, too.)
3/4 cup butter (You could omit this and use all coconut oil if you'd like or if you need a dairy-free recipe, but I like using a little of both so the coconut taste isn't as strong.)
3/4 cup organic cocoa powder
1 teaspoon sea salt
1 teaspoon organic vanilla
1 cup real maple syrup
1/2 cup palm or coconut sugar
Optional:  add some real cream to make a larger amount and a more creamy, dreamy sauce
Instructions:
Stir over low-medium heat until it begins to thicken a little.  You can transfer to a fondue pot if you like it warm, or just serve in a dipping bowl and it maintains a nice dipping consistency even as it cools.  Be creative with your dippers!  Here are some of our favorites:
The mandarin oranges mentioned above were SO tasty in the chocolate.
My friend, Jenn, also loved kettle corn dipped into the yummy chocolate.  Regular popcorn would be good, too.
Pineapple chunks
Strawberries
Banana slices
Apple wedges
Pieces of cookies or brownies
Pieces of cheesecake or pound cake
Do you have more ideas for good fondue dippers?
Part of Wardeh's Tuesday Twister!