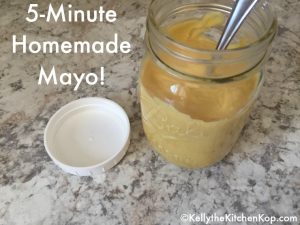 Kelly's 5-Minute Homemade Mayonnaise Recipe
Yield About 1 cup
Make sure to check out my other tips below!
Ingredients
Note that I don't normally measure out any of the following, I've made it so much now that I just throw stuff in, nothing has to be exact.  If you're just learning, though, the amounts below are just right...
3 egg yolks, (preferably from pastured hens)
1 Tablespoon lemon juice (the juice from one half lemon), or raw apple cider vinegar -- I prefer the lemon juice, but it definitely has a mild lemon twang to it, which I actually love the taste of.  The vinegar has a twang, too, but maybe not quite as noticeable, in my opinion -- experiment and see what you like.  Use 1 Tablespoon for more flavor, or 1/2 Tablespoon if you want it very mild.
1 1/2 Tablespoons palm or coconut sugar (or your favorite unrefined sweetener — see my tip below about what to use instead of the sugar in this recipe!)
1/2 teaspoon sea salt
A squirt of regular or dijon type mustard, about 1 Tablespoon, which acts as an emulsifier with the eggs — if you're using the mayo in a recipe that a mustard flavor doesn't go well with, just use 1-2 Tablespoons of water.
1 cup expeller pressed sesame oil (refined) or  avocado oil (click those links for where to buy it) – note that when I tried using no-flavor coconut oil, it separated after a night in the frig -- bummer!  And olive oils can be just a little too strong tasting in this recipe, however you might use one or two Tablespoons of olive oil for the antioxidants, though!  (By the way, these oils are higher in omega 6's, so Nourishing Traditions says that some is OK, but not too much – you wouldn't want this to be the only oil in your house.  Walnut oil or peanut oil are more options, but they're also omega-6 oils so not something you'd want eat a lot of daily.  Read more about that here.)
About 1 Tablespoon whey, optional
Instructions
Mix everything but the oil in a blender for about a minute.  I like using my Bosch to make it hands-free.  Readers have shared in the comments that they've had great success using their stick blenders in a small jar.
Add oil in very slowly, use the hole in the top of the blender if you have it.  Within a few seconds you'll hear it start to thicken as you're blending.  Once your oil is all blended in it's done, so fast!
Recipe by Kelly the Kitchen Kop at https://kellythekitchenkop.com/5-minute-homemade-mayonnaise-recipe/