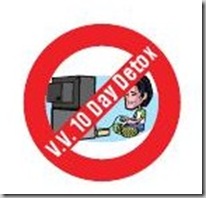 Yes, I know that title is all over the place.  This post is a little like that, too, but I still think you'll enjoy reading about what got my friend Megan all fired up recently.  Don't worry, Real Foodie friends, there's a good story about healthy fats today, too – we loooove our good fat stories, don't we?  Also, be sure to stick around for the local news video clip below.
What are your passions?
Surely you know what it's like to be given a passion for something, and how it becomes a huge focus of your life.  I'm not talking about the obvious passions, like the love you have for your family and friends, I'm talking about the kind that motivates you to do crazy things.  A couple life changes are what sparked my biggest passions of that type – this blog and my other blog are good examples of some craziness that came out of those.  (Believe me, I never ever thought I'd be writing a blog, especially since I'm so technically challenged…)  When you develop an odd passion for something, you never know where it might lead you, but it definitely helps you to "get it" when you see that in others.
What got Megan all fired up?
To say that my friend, Megan, is passionate about certain topics is an understatement.  If you know her, you're nodding your heading wildly right now.  She's a 4th grade teacher at our kids' elementary school and because she is passionate about kids and making a difference in their lives, she's a great teacher.  She often takes on projects that make others say, "That girl is absolutely nuts."  But once she's all fired up, she'll spend as much of her own money, lose as much sleep as necessary, and do whatever it takes to pull it off.
Recently Meg heard a guy speak who got her goin'…
Lt. Col. Dave Grossman spoke about the devastating effects of violence that kids see on TV or experience in video and computer games.  He shared some disturbing stories about Columbine and similar tragedies, and how desensitizing our kids to violence is more detrimental than many of us understand.  But it's not just the issue of desensitization.  Too much TV and video/computer game violence actually changes the make-up of kids' brains, as you can see in these brain scan pictures from Lt. Col. Grossman's "Killology" website.  When you add to this the fact that many kids lack good nutrition at home (and at school), it's no wonder they have trouble focusing or behaving.
Megan heard all this and much more and became a teacher on a mission.  Read the press release put out by the school:
MEAP Students "Detox" Prior to Testing
Elementary fourth grade teacher Megan McCall recently developed and implemented a ten-day "detox" program for students leading up to the M.E.A.P.  Students and their families were encouraged to follow the program prior to the testing. The "detox" entailed a commitment to no audio-visual exposure, including TV and video games, and instead playing board and athletic games with their families; and eating healthier during the ten-day stretch.
Mrs. McCall's passion for coordinating this healthy life change for our students has been infectious. Nearly 200 of our 3rd, 4th, and 5th Graders participated in this volunteer program – most of it being done after school, when students were involved in activities until their parents picked them up from school. Megan and an army of parent volunteers led the children in everything from kickball to cooking healthy treats in the kitchen. Students were also supported in their effort by area merchants who provided incentives to those who earned their "detox" tattoo.
In the true spirit of education, we hope students have taken away lifelong lessons on the benefits of a healthy lifestyle.
Megan & the news reporter…
So the news station came to the school to take some footage and ask a few questions.  Megan made me laugh as she told about it.  "I've been interviewed three times for the news and haven't made it on yet, that shows you how articulate I am.  I get all nervous and nothing comes out right.  Besides, the news lady and I didn't click at all.  She kept focusing all on the MEAP and asking more questions about that, but it's not just about the MEAP!  It's about the kids getting healthier overall and teaching them about better habits!  You should've heard her when I explained that I was talking to the kids about healthy fats and eating better." (The interviewer is the health reporter at the news station).  "Oh, so you're teaching them things like replacing the oils in recipes with applesauce?"  Meg replied, "Oh no!  I'm teaching them to eat more butter and coconut oil and to only drink whole milk, their brains need those healthy fats!" The lady's eyes popped out of her head and she changed the subject back to the MEAP.
See why I love Megan?!
Watch the news clip (and notice that the part about healthy fats didn't make the cut):
Be sure to comment below and tell us about your passions and what kind of craziness came out of it in your life!
This is the website I go to when checking out movies, video games or music to make sure it's age-appropriate:  pluggedinonline.org
Read about when our guys cooked Meg & I an amazing anniversary dinner!
Try Megs famous chicken enchiladas and read more about her & Joe.