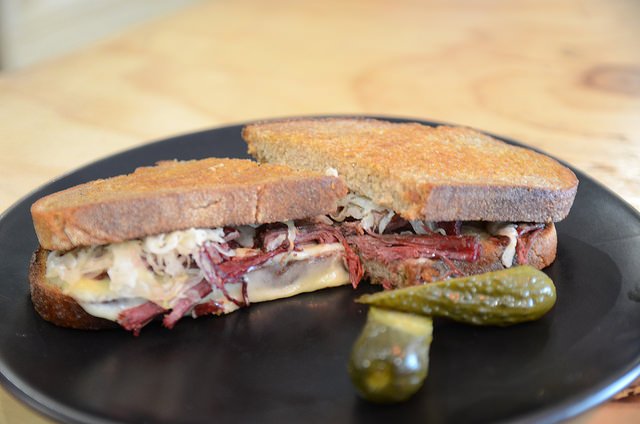 Let's face it, there really are no healthy fast food restaurants (although some of them are getting a little better, removing some of the junk in their foods), so I continue to try and find more easy, healthy fast foods for make-at-home meals.  Not long ago, we had just finished dinner and Kent knew he saw that look in my eye.  No, not that look. I told him, "I feel another post coming on…"
DINNER WAS SO FAST AND EASY!
It literally took me 15 minutes to pull together from start to finish, and only because there's six of us.  If you have a smaller family, you could do it in 5 or 10 minutes!  The only issue is that you'll need to think ahead to be sure you have what you need.  I don't normally keep these ingredients on hand unless we're making Reubens.
HERE'S WHAT WE HAD:
Turkey Reubens made with my brother, Doug's, YUMMY homemade sauerkraut (a healthy fermented food!), turkey pastrami (from a brand I thought was okay at the time, now I'm not so sure), & swiss cheese.  Kent likes his with mustard, and I used some organic Thousand Island.  You could also make these with corned beef, but I don't like it.  Next, I spread butter on the outside of the rye bread and grilled them on each side for extra crisp – very tasty!  The kids had theirs without sauerkraut, though.  At least they tried it…but then made a face.  I didn't like it when I was little, either.
"Ketchup Soup" that Sonia had sent over, heated up in a saucepan while I grilled the sandwiches.  (This is easy to make, too, though, if you don't happened to have soup from a friend on hand!)
Leftover broccoli slaw from last night.  I bought the organic bagged kind, and then added some dried cranberries and this dressing:  mayo, fermented soy sauce/Tamari, a little organic sugar & raw apple cider vinegar.  (Sorry I didn't keep track of amounts, I just threw some in until it tasted right.)
Applesauce from the freezer – it was a lot of work to finish last fall, but WOW, it is sure tasting good these days.
That's it, I loooove easy dinners that everyone actually eats!  What is your favorite "fast food" meal?
Meal Planning Help!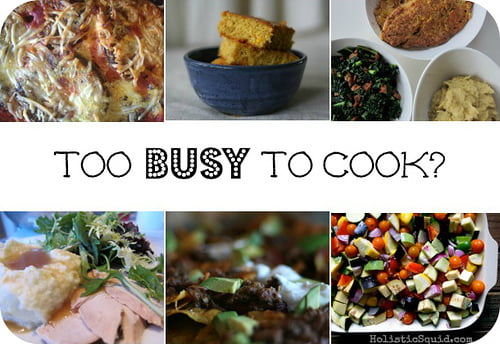 Sick of planning meals and answering the question, "What am I going to feed these people?" No matter what kind of eater you are (traditional, GF, paleo, vegetarian)… Check out these affordable interactive easy-to-use meal plans where the work is done for you.  NOW recipes also available from Nom Nom Paleo, The Paleo Mom, and Wellness Mama all in one spot!  You can read over my review here.