Growing up I always loved relaxing on Sundays and smelling the comforting aromas of whatever yummy homemade meal my Mom was making for Sunday dinner.  (She's a great cook and taught me so much.  Now I'm learning from Kent's Mom, too, who is also a great homemade cook.)  Isn't there just something about the smell of a roasting chicken or a pot roast that makes you feel content?
Today I've embedded a few of my favorite Sunday dinner recipes into this handy dandy widget:
Here are the links in case you can't get the widget to work:
I thought it would be fun to gather a collection of these Sunday dinner recipes all in one spot, so I agreed to write this paid post for Foodie.com, I hope you like it!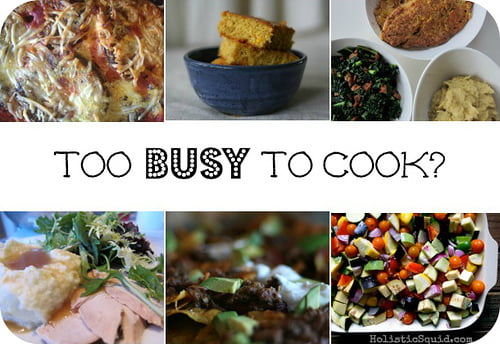 Sick of planning meals and answering the question, "What am I going to feed these people?" No matter what kind of eater you are (traditional, GF, paleo, vegetarian)… Check out these affordable interactive easy-to-use meal plans where the work is done for you.  NOW recipes also available from Nom Nom Paleo, The Paleo Mom, and Wellness Mama all in one spot!  You can read over my review here.